Former Houston Rockets star Carmelo Anthony was not having any of this slander!
Carmelo Anthony is TIRED of FAKE NEWS and now he is SOUNDING OFF at RUMORS that he is cheating on his wife. Read on to see why Carmelo Anthony SOUNDS OFF…
Carmelo RESPONDS ? pic.twitter.com/oCg8DLICj9

— LAM (@LIKELAMAR) June 26, 2019
CelebNSports247.com reports that former Houston Rockets star and now free agent Carmelo Anthony, 35, is NOT cheating on his wife LaLa Anthony.
The RUMORS surfaced after Carmelo Antony posted a super sweet love letter to his wife, LaLa Anthony and shared it with the world! LaLa turned 36-years-old, so he made sure to respond on social media to the message and prove once again that they are so #goals!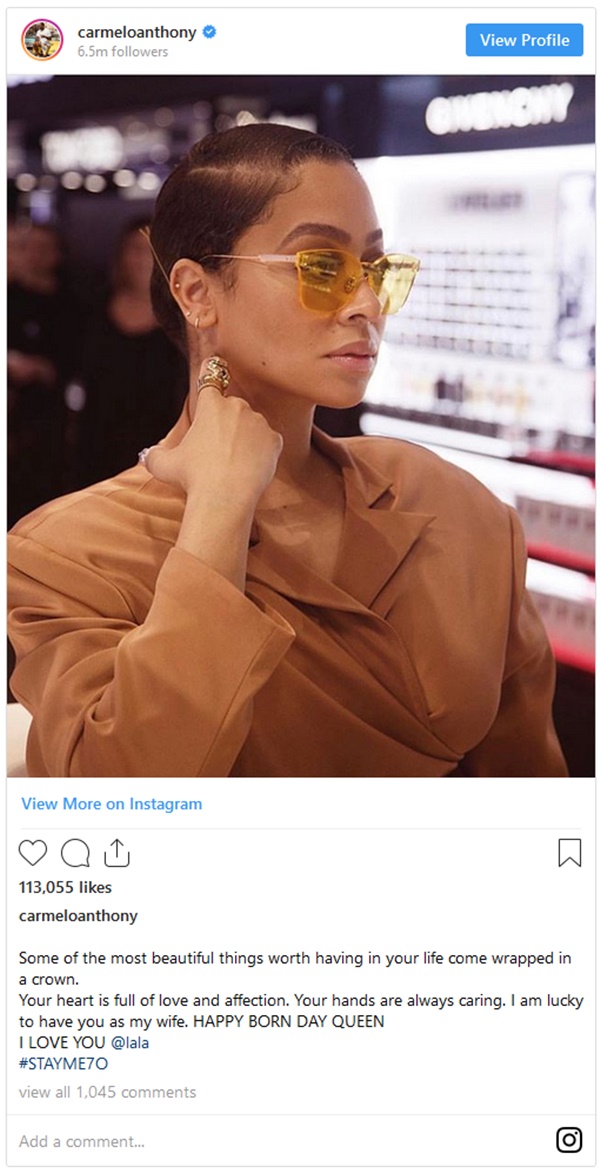 Shortly after posting the love letter, the website YBF reported that free agent NBA star Carmelo Anthony was spotted with a mystery woman and immediately cheating rumors began to surface.
Now, Carmelo is SOUNDING OFF that he is NOT Cheating.
He was hanging out with friends, and the woman is married. She is one of his friend's wives.
Melo says the woman he was spotted with was on the Yacht with her husband.
Here is what he sai in the video above:
All them bloggers that's trying to put that out there, that sh*t is not cool at all. That's not cool at all. Let that family be they family, they married.

The only reason i'm addressing this is because this is affecting my family now and you got me out here looking crazy. Usually I won't address this, but I had to address this.

Can't let this one slide, because this sh*t ain't cool no more. Peace.
Look at this piece of shit. COMFORTABLE. The audacity ??? pic.twitter.com/OhKDPRfy6W

— # (@_TerryLee_) June 26, 2019