Carson Wentz and the Philadelphia Eagles came to an agreement on a four-year contract extension through 2024.
The details of the contract were immediately known and about the Philadelphia Eagles Carson Wentz contract…
CelebNSports247.com has the latest on Philadelphia Eagles Carson Wentz just landed a HUGE extension as the team's quarterback which will pay him $128 million.
The details are impressive and apparently, the Eagles feel Wentz is worth every dollar to be on the team
ESPN reports:
The extension is for $128 million and includes $107.9 million guaranteed, including $66 million due at signing, a source told ESPN's Adam Schefter. The extension can escalate to a max of $144 million. Wentz's total deal is now six years for $154 million and can grow to a max of $170 million.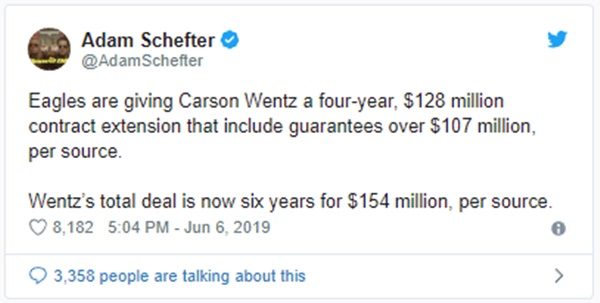 Wentz extension contract with the Eagles is similar to the one the Seattle Seahawks gave Russell Wilson, who signed a four-year, $140 million extension with $107 million in guarantees in April.

The price for premium quarterbacks is only going to go up, and with Patrick Mahomes eligible for a contract after this season, the cost could soon skyrocket.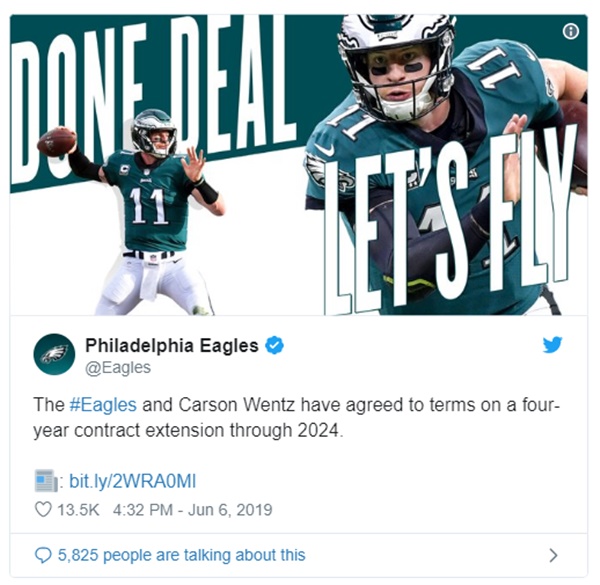 Basically, it means that Philly fans will be paying more to watch the games at Lincoln Financial Field.
Currently, ticket prices range from $67.00 to $202.00 though it does state tickets may fluctuate.