Now that Odell Beckham Jr. has long left the New York Giants, retired NFL quarterback and CBS Sports analyst Boomer Esiason believes that OBJ FAKED his "bruised quad" injury.
Read on for the damning claim made by 58-year-old retired NFL quarterback Boomer Esiason regarding Odell Beckham Jr. leg injury that kept him from playing with the Giants. Read on to see why CBS' Boomer Esiason: Odell Beckham Jr. QUIT on Giants…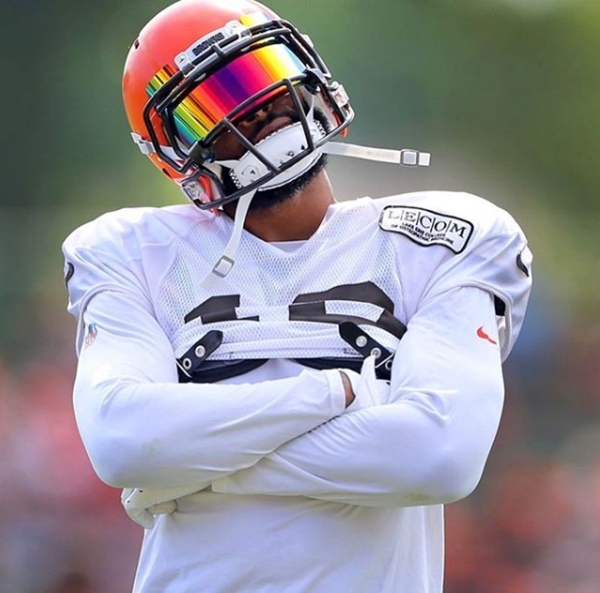 CelebNSports247.com reports that there was an obvious disconnection between the Giants organization and Odell Beckham Jr. long before the team signed him to a multi-year contract extension.
Now, CBS Sports analyst Boomer Esiason believes Odell Beckham Jr. maintained his injury was more serious than the "bruised quad" so New York Giants listed as on the injury report. OBJ went on to miss the final four games of the 2018 season and never made it back to practice with his teammates.
CBS Sports analyst believes Odell truly quit on the team by faking an injury after he got paid.
Boomer Esiason has gone on record telling NJ Advance Media:
Odell took himself off the field last year for four games after making $19 million. That takes a lot of chestnuts.
Esiason went on to say that Beckham copped out on the Giants:
I don't know what the issue was with Odell and why he didn't want to play for the Giants anymore, because I do believe that was the case. But I know for Pat Shurmur and Dave Gettleman, dealing with that kind of corrosive personality toward them makes it very difficult to do their job.
He added:
And that's why they were trying to get rid of some of those guys in the locker room and bring some other guys in that were going to be more team-oriented and not so focused on their own numbers.
Esiason pointed out how all of Beckham's teammates liked him, with the exception of Eli, who found himself on the end of subtle jabs by the star WR.
Esiason concluded:
If I could ever just show professional athletes how to act under adverse situations and anxiety situation, Eli would be the case in point. He has never changed from the day he got here to today until whenever his career ends. He'll always be steady Eli, which may drive some people crazy.
Beckham has since been traded to the Cleveland Browns and is much happier.
Isn't interesting how someone like Boomer can make these claims but not reach out for an interview to speak with Odell face to face?
Then why did Odell go public complaining how hard it was to be him? Not only that Beckham also said he felt "disrespected by the Giants?