There seems to be some major miscommunication between Jay-Z and Colin Kaepernick!
Thanks to Kaperpernick's main lady, Nessa, she is calling out Jay-Z for lying about speaking to her man Colin Kaepernick. Read on since Colin Kaepernick Attorney Says Jay-Z Didn't Speak to Him…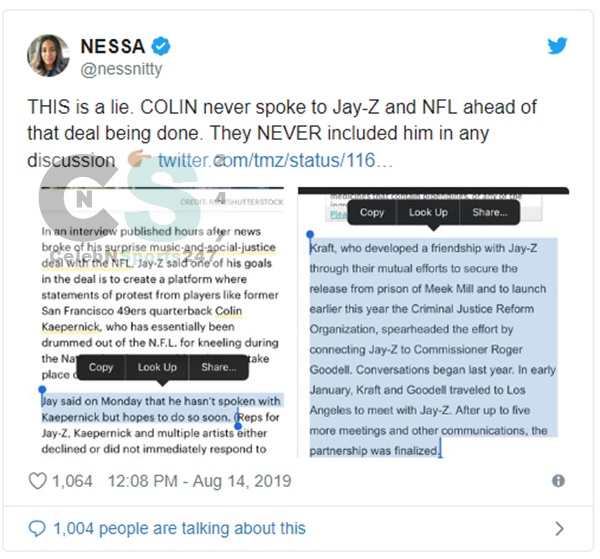 CelebNSports247.com reports the partnership between Jay-Z and the NFL has led to conflicting reports about whether the rap mogul discussed his deal with Colin Kaepernick before agreeing to it.
What was very confusing for everyone is that during a joint press conference about the partnership (h/t Variety's Jem Aswad), Jay-Z and NFL Commissioner Roger Goodell both said they've spoken to Kaepernick.
Then TMZ made this FALSE report:
Hov says that Patriots owner Robert Kraft played a role in fostering the new partnership.

Jay-Z's camp tells us he has absolutely spoken to Kap within the last 48 hours, however … that was NOT before Jay agreed to his new partnership with the NFL. Still, a source at Roc Nation tells us Jay made it clear to Colin the partnership was about to be announced to the public. We're told this was not a case of Jay checking in with Colin for approval — the deal was already signed — it was more like a heads up. Other NFL players got the call, too, we're told.
So, Kaepernick's lawyer, Mark Geragos, had to correct the outlet for spreading FAKE NEWS telling TMZ:
Despite what Jay claimed in the meeting, Kap did NOT talk to Jay-Z prior to partnering with the NFL.
He reiterated:
Jay-Z NEVER talked to the former San Francisco 49ers quarterback.
Nessa Diab, who has been in a relationship with Kaepernick since 2015, also denied any conversation happened:
Nessa says:
THIS is a lie. COLIN never spoke to Jay-Z and NFL ahead of that deal being done. They NEVER included him in any discussion.
After being put on blast TMZ cleaned up their false reporting: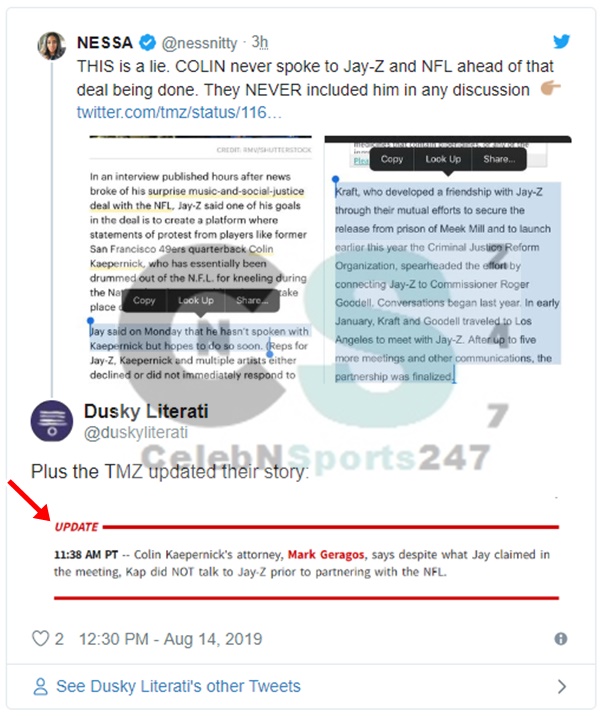 Former Giants running back Tiki Barber was in the room during the event and revealed that Jay-Z used Kaep's name to advance the conversation that Kap started with his [kneeling] protest.
Kaepernick has not responded to Jay's sit down with the NFL Commissioner.