Don't believe the hype coming from Jay-Z, this was a straight up money move! He is getting support from the hip hop community since Hov is the music coordinator for the NFL.
Jay-Z renamed the title and cultural advisor, but what is it doing for Colin Kaepernick "Fight For Liberation." Jay-Z is ridding Kaepernick's coattails, but no one wants to see the truth. Read on since Colin Kaepernick BLASTS Jay-Z "We Haven't Moved Past Anything"…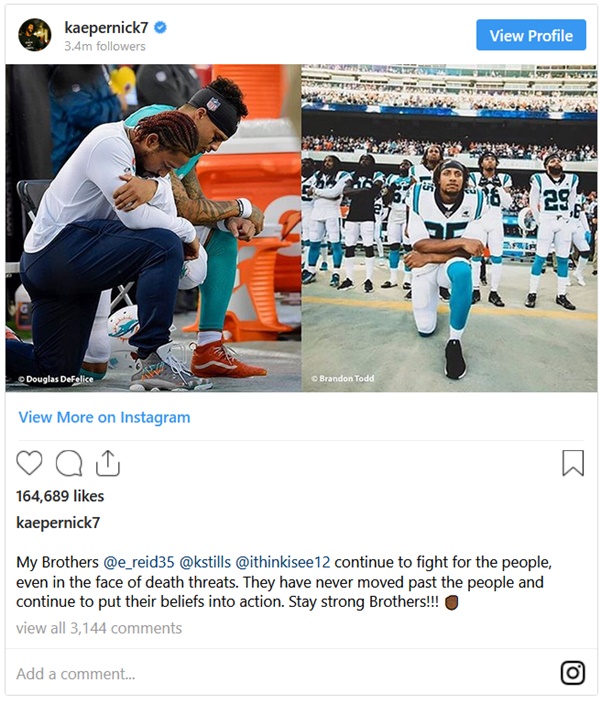 CelebNSports247.com reports that Jay-Z may think folks are ready to move on from Colin Kaepernick's kneeling protest, but it's NOT about anything but a money move for Jay-Z.
Jim Jones tried to call out Colin Kaepernick and Eric Reid was reportedly paid $10 million in its settlement of grievances by the NFL. Reid CALLED OUT Jay-Z on social media, and Colin supported Eric.
But, Jay-Z is 100% wrong if he thinks people have moved past he kneeling when there is still so much injustice happening in the U.S. during the Trump administration.
The former 49ers quarterback posted a photo Sunday taking a swipe at something Jay said last week during his press conference with NFL commissioner Roger Goodell .
If you recall, Jay-Z suggested "we've moved past kneeling" to "actionable items."
Colin definitely doesn't see eye with the Roc Nation Sports leader. On no, Kaep took to social media to check Jay-Z with a pics of Eric Reid, Kenny Stills and Albert Wilson — all of whom have continued to kneel in the years since Kap first started his racial injustice protest.
Kaepernick writes: (above)
My Brothers @e_reid35 @kstills @ithinkisee12 continue to fight for the people, even in the face of death threats. They have never moved past the people and continue to put their beliefs into action. Stay strong Brothers!!
Where is a pic of Jay-z kneeling on the NFL field?
Oh there isn't one because Jay-Z has NEVER portested anything in his life. And what he is doing with the NFL is NOT a continuation of Colin's protest. This is a way for Jay to have control of who performs at the Super Bowl and what music is played during the NFL.
Jay was asked about kneeling directly during the Q&A, and said flat-out "we're past it, and ready to take the next steps." He believes partnering with the NFL is a key way to do that — but Colin and co. have been blasting him these past few days as a sell-out.
You may not know, but Jay-Z stands to become a partial owner of an NFL team with this new business venture of his. Like we said money moves. What is so crazy is no one has paid any attention to Jay strategic move to hold a press conference on Kaep's 3 year anniversary of starting the kneeling protest. It was a back-handed slap by Jay with a smile while lying about speaking to Kaep before the conference. It's one shady move after another.