Wait, what? Colin Kaepernick to Odell Beckham throwing passes at a secret workout?
Colin Kaepernick has been out of the NFL since the end of the 2016 season, but he remains in tip-top shape and waiting for a phone call. Read on since the veteran quarterback is still working out daily and hoping to get a second chance in the league. Check out the video of Colin Kaepernick + Odell Beckham Private Workout …
CelebNSports247.com has the latest on the 31-year-old quarterback contacting Odell Beckham Jr. and having a private workout with the star wide receiver as he fired off accurate pass after accurate pass.
Yes, Cleveland Browns, its time that you hire Colin Kaepernick as a backup quarterback even though the team has Baker Mayfield as the starter and Drew Stanton and Garrett Gilbert on standby. Just by watching the video you can see OBJ and Kaepernick have synergy.
That is what an NFL team needs with its players. Kaepernick's name has been thrown around a lot since Jay Z teamed with the NFL as their music coordinator. Not to mention the Roc Nation leader saying its time to "move of from kneeling" by throwing free concerts with Meek Mill & Megan Trainor and selling merchandise. Like we said it was a money move. Many still feel Jay sold his soul.
As for Colin Kaepernick, he and Odell Beckham had a private workout session back in July at UCLA…and it's all on video. (above)
During the workout, Colin and Odell ran routes, Colin worked on throwing on the run and flexed his arm strength.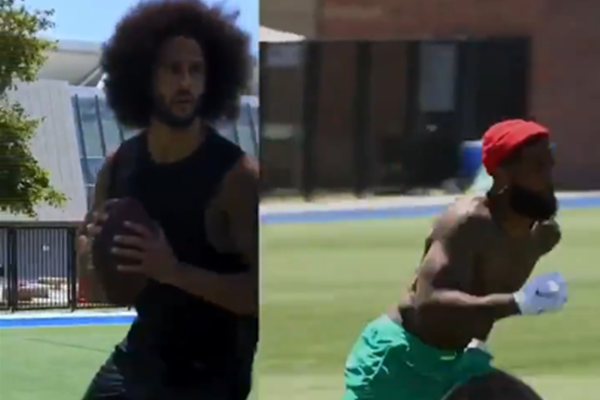 And, get this … Odell showed up to the workout wearing a Colin Kaepernick #7 jersey.
Kap has been trying to showcase his skills recently in the hopes an NFL team will give him a workout. So far it hasn't happened, but he's still trying.
Just this week, Houston Texans WR DeAndre Hopkins vouched for Kaepernick during an interview with GQ magazine — claiming the guy is clearly good enough to help an NFL team win.
Hopkins says he was upset when the Texans passed over Kap when they needed a QB in 2017 following an injury to Deshaun Watson.
The issue for Kap … there have been plenty of QB openings over the past few weeks — but so far, Kap has yet to get a workout invite with an NFL team.