UFC lightweight champion Conor McGregor is determined to make the fight against Floyd Mayweather happen and he is making sure the "UFC Can't Stop" him!!!
Read more on what MMA fighter Conor McGregor, who is unstoppable and determined on fighting Floyd Mayweather…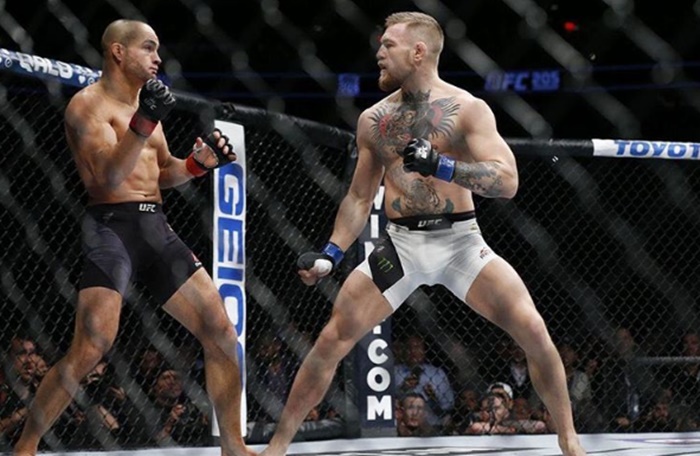 CelebNSports247.com has learned that the mixed martial arts fighter, Conor McGregor, states "I have my eyes on one thing right now and that's Floyd Mayweather."
The soon to be dad has this to say about fighting former boxing champion Floyd Mayweather Jr.:
"That's the thing I have my eye on," McGregor recently said during a pay-per-view question and answer session in Manchester, England.
UFC president Dana White made Mayweather and Conor McGregor an offer on Jan. 13 to promote the boxing bout, but Mayweather laughed at the $25 million proposal.
McGregor weighed in, saying:
"I'm sitting at the house and Floyd offers $15 million. Then Dana offers $25 million. I'm sitting in my house watching the millions go up. Like, this is all right. This is all right."
Now, McGregor plans to head to Vegas to meet with Mayweather in person and come to an agreement. The Irishman says:
"I'm going to go out there. Everything is good on the phone, but I need to go out there and really be in there. I need to get my skin back in the game fully. I've been in the game from a distance, but now I'm going to get back in and get everything settled. Me and Floyd have got to get together and talk and figure it out the same way he and Manny Pacquiao figured it out. Once we come to a number, once we come to a set number that I'm happy with and he's happy with, then we go to the customers. Then we go to the promoters, the buyers, and then we get it done. That's next. I'll go to Vegas. I'll handle the commission, or we'll figure that situation out and then we'll come to a dotted line. This is happening."
[rpi]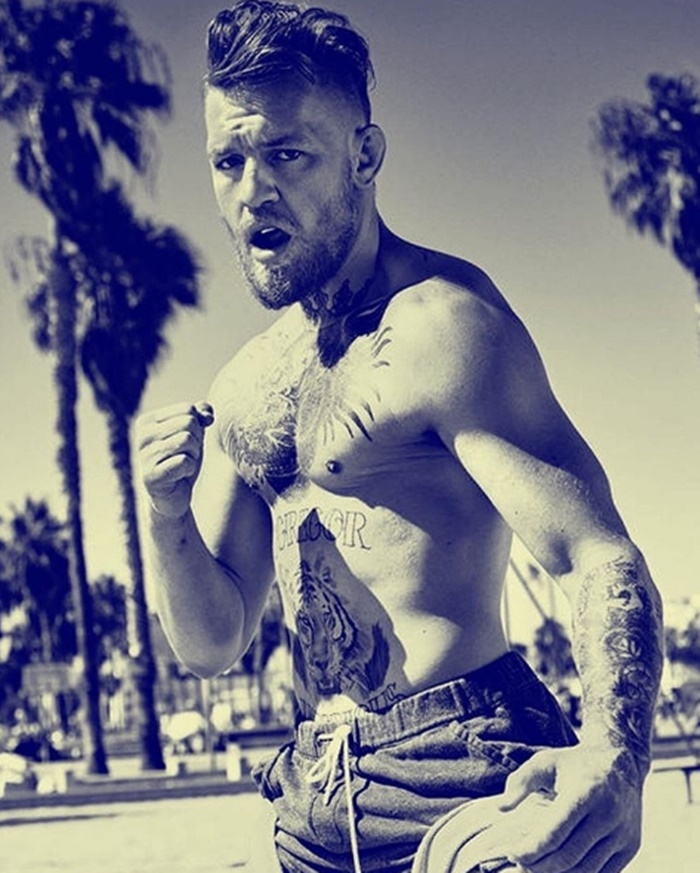 Connor reveals that a fight with Mayweather has been in the works for some time. McGregor is determined the fight a reality.  He continues:
"That fight was more than just being explored. That fight has been in the works for a while now. Look, there are a lot of steps to get the fight done. It's the fight to make. It's the fight that people want. It's the fight that I want. I'm confident going in there. I've got the reach. I've got the youth. I've got the confidence. I've got an unpredictable style. You can't prepare for a style like me. A guy said to me, why conquer one world when you can conquer two, so I'm going to conquer two worlds."
The only thing in the way is that McGregor is under contract with the UFC, adding:
"I believe so. With the Ali Act, I believe I can (do the fight without the UFC), especially now that there are offers on the table. But I think it's smoother if we're all involved. I think we're all about good business. I've done great business with the UFC, with Dana, with everyone. I think it's smoother if everyone gets together and are involved. But, again, everybody has to know their place. We'll cross that bridge when we come to it."

"Everyone's got to know their place. There's Mayweather Promotions. There's the UFC, and now there's the newly formed McGregor Promotions. And we're all in the mix, so that's what I'm saying. Nobody is my boss. I know Floyd likes to say that Dana is my boss and that he decides. Hell no. Nobody decides this. If they let people go fight jiu-jitsu tournaments, they can't stop me going to fight a boxing fight."
Connor "believes it will happen at the end of this year or early next year." He plans to "step in a combat arena" but instead of a cage it he will walk through "ropes wearing 10-ounce or eight-ounce gloves."
Thoughts?