You're not going to "belieb" this but we have some stupid to share. On Sunday, Justin Bieber challenged Tom Cruise to a fight in "the octagon" and appeared to try and provoke the actor, saying if he doesn't accept he'll "never live it down."
Well, Justin Bieber who apparently has a lot of time on his hands decided that Tom Cruise was a target to gain some attention and that it did. Conor McGregor jumped all over it. Read on…
CelebNSports247.com reports that Justin Bieber's tweet went viral and MMA fighter Conor McGregor announced that his company would host the fight.
Conor McGregor appeared to take a shot at Tom Cruise following the Justin Bieber tweet stating that the fight would only go on if he's "man enough to accept this challenge."
Earlier this year, Bieber announced he would take a break from music to repair "deep-rooted issues," and in April shared a photo from therapy saying "it's cool to have a healthy mind and healthy emotions."
And now he is showing his crazy side because Justin Bieber going after Tom Cruise makes NO sense what so ever?
These days, certain celebrities NEED to get a life and stop with the BS trying to stir up drama or fight people when they NEED to focus on their career and mental status.
Check out Bieber's pointless Tweet: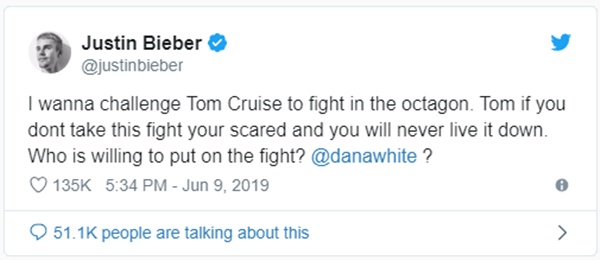 McGregor jumps on Beibs coattails to promote his McGregor Sports and Entertainment Company: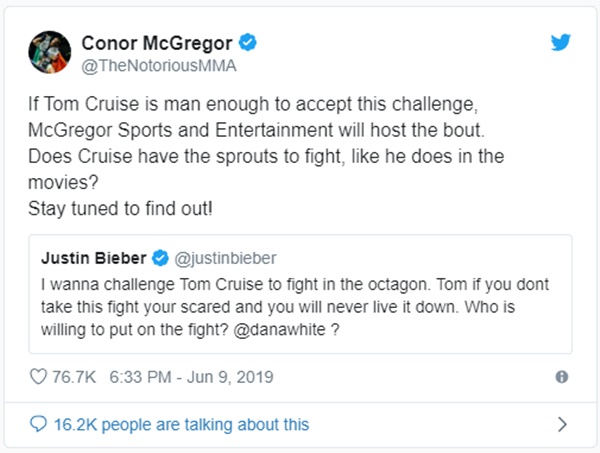 Somewhere right about now, Tom Cruise is preparing for his next scene in Top Gun: Maverick and has no clue that Justin Bieber and Conor McGregor are trying to stay relevant by using his name by calling him out to fight.
See, Tom Cruise is NOT a social media whore.
Cruise has a life, a career and makes movies. He is a superstar. Tom could care a less about UFC fighter Conor McGregor or the Canadian pop star with too much time on his hands.
Justin Bieber is dumb for this and so is McGregor. #Booo #SMH