Just one week ago, the world witnessed Conor McGregor was caught attacking a UFC bus looking for new UFC lightweight champion Khabib Nurmagomedov.
A week has passed since the former UFC Champ Conor McGregor who was stripped of UFC lightweight champion via UFC President Dana White. Read on to get the tea spilling. Read on…
CelebNSports247.com has the latest on Conor McGregor responds to White who said that McGregor would no longer be the champion at the conclusion of Saturday's UFC 223.
Conor McGregor was angry after White took to social media while pointing to Max Holloway and Khabib Nurmagomedov being the  new UFC lightweight champion.
Halloway and Nurmagomedov will headline Saturday's UFC 223 at Barclays Center in Brooklyn.
Dana said:
When this fight is over one of these guys will be the (lightweight) champion, period.
Conor McGregor responds profanely at his boss on social media following the announcement via Forbes.
The Irishman took to Twitter stating:
You's'll strip me of nothing you's do nothing c–ts.
White still believes McGregor will return to the octagon in 2018. It was the announcement the triggered McGregor to ignite in a ball of fire while attacking the UFC bus.
He was arrested after the attack on the bus. Last Friday McGregor had a hearing at the Kings County Criminal Court in New York. The judge issued an order of protection in favor of Chiesa, Borg, Ozzy Arias and Ricardo Chico, and set a $50,000 bail on the UFC star and a $25,000 bail on his friend, Cian Cowley.
His manager released this statement: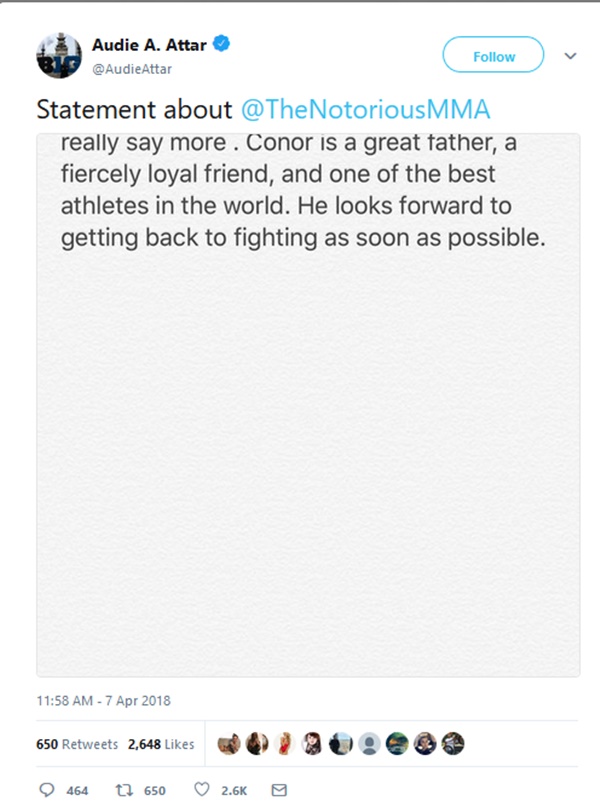 McGregor's next hearing is set for June 14.
On Friday, a week after his court date, Conor McGregor responds on Instagram to last weeks mishap via Express:
I have the best job in the world looking after my family. If we all look after our own, we are all looked after.
He added:
It is only a lesson if you learn from it… I learn every day.
Recently, Conor brought back the return of his man meat photos showing off the family biz: