Dallas Cowboys quarterback Dak Prescott isn't making it easy to come to an agreement when it comes to his contract deal.
Nope, Dak Prescott photo says it all because he is pointing to the sky, which means that Cowboys NEED to cough up more stacks to keep Dak. Read on…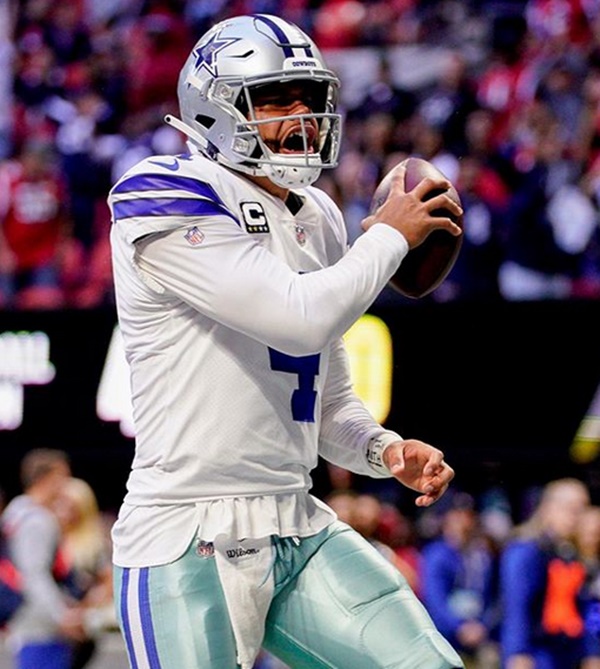 CelebNSports247.com reported that Dak Prescott was going to become a $30 million dollar man. Well, it seems he'd rather be somewhere in Russell Wilson range?
Like we pointed out, Dak Prescott is one of several big names players who are in line to receive a hefty extension from the organization and none of them seem to be making it easy for the team. This is the second time he has turned down the Cowboys offer.
Russell is a better QB than Dak, so that doesn't make any sense why he turned down the Cowboys offer.
Michael Lombardi of The Athletic reported on Sunday that he has been told Prescott turned down a lucrative offer from the team that would have paid him somewhere in the neighborhood of $30 million annually.
Lombardi who was shocked to hear what he heard about Dak, decided to post this report on social media:
If Dak Prescott has turned down an offer in the 30 million per year range, which is what I am hearing, then he is nuts. Not a top-five quarterback!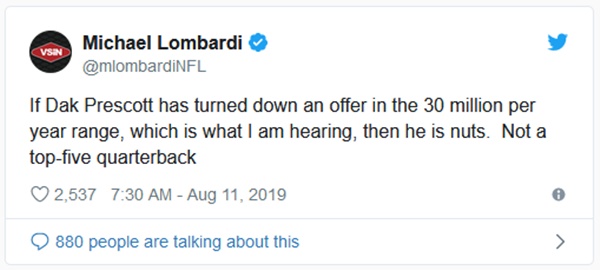 What is crazy about him turning down $30 million is that if Dak had accepted the $30 million annually, it would've placed him among the five highest-paid quarterbacks in football.
But NOPE, he turned it down.
That number really doesn't tell us how much guaranteed money that he would be receiving and that was likely the reason Dak turned it down. As we know, the final numbers in an NFL contract means nothing and the player only ever receives the guaranteed part of their contract. Prescott recently spoke on his contract.