Things are starting to turn around for Colin Kaepernick. First, he landed a Nike deal, Then, Nike sales are up and their stock has increased despite Trump trying to sway people NOT to buy Nike.
Now, Colin Kaepernick is in Demand Since Dak Prescott is playing terribly behind center and fans are more than frustrated after the team dropped to 1-2 on the year.
In addition to Prescott not performing up to par, the 49ers starter quarterback Jimmy Garoppolo went down with an ACL injury and is out for the season. What to do? Fans apparently have the answer and they want to see Colin Kaepernick on their team, but will Dallas or San Francisco listen? Read on and see if you agree…
CelebNSports247.com is hearing the cries of Dallas Cowboys fans who are upset with the way that their starter Dak Prescott is performing on the field.
They love you and then they hate you. Anyways, Dak Prescott is perfectly healthy, but fans want him replaced with Colin Kaepernick.
Kaep hasn't played since opting out of his contract a year-and-a-half ago, and with Cowboys fans they are in need of a solution. Many of the fans began to take to Twitter and campaign for the Cowboys to bench Dak Prescott, tuck their pride in, and sign the former San Francisco 49ers QB.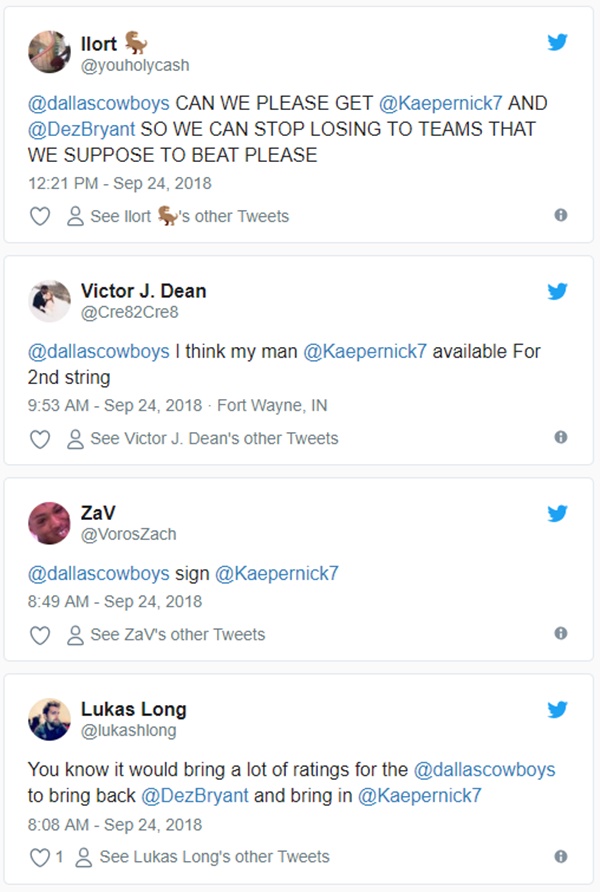 If that wasn't enough, it appears that San Francisco fans are finally forgiving Kaepernick, who began kneeling during the national anthem in the 2016 season to protest racial injustice and inequality. The President is the one who made it a sign of disrespect to the men and women who serve in the armed forces.
That was NEVER Colin Kaepernick's movement. That was made up propaganda by the government and white people who didn't pay attention ate it up.
San Francisco 49ers fans want Colin Kaepernick back!
The noise that Jimmy Garoppolo was the one to lead the 49ers to the super bowl is over.
Sorry but the great white hope has torn his ACL and now Sa Francisco 49ers fans are scrambling to solve their problem like the Cowboys.
They two want Colin Kaepernick back on the 49ers to help save the 2018 season.
The only problem is coach Kyle Shanahan, will he listen to fans or go with a rookie instead?
Here is what 49ers fans are saying:
Kaepernick looking at the 49ers like pic.twitter.com/QYHZhelvTr

— Trev (@DaBigJohnson61x) September 23, 2018
Aye @49ers … y'all know my man Kap's number?? @Kaepernick7 pic.twitter.com/h4fI4PDkqb

— Mikey_Sheesh (@SheeShDaDj) September 23, 2018
@49ers please bring back Colin Kaepernick ?miss him! pic.twitter.com/acimTLARuL

— Lori Keith (@lokeygcd) September 23, 2018