Cristiano Ronaldo keeps his personal life rather private, but it appears those days are about to be O.V.E.R. since he's in talks with Facebook for his own reality show.
Facebook is gearing up to get you hooked on their reality shows and talk shows in the coming year. Read on and get the tea spilling on a new Cristiano Ronaldo reality TV series in the work from CelebNSports247.com…
Currently, Cristiano Ronaldo everyone's favorite soccer star could score a $10 MILLION paycheck for 13 episodes according to Variety.
Meanwhile, TMZ is reporting that Real Madrid star Cristiano Ronaldo show would be produced by Religion of Sports, the media company that did "Tom vs. Time" for Facebook Watch.
Ronaldo definitely has an interesting life — he's got 4 kids including newborn twins that were reportedly birthed by his 22-year-old girlfriend Georgina Rodriguez in the United States. In fact, the soccer star recently put a ring on Georgina's finger, so the couple is engaged.
One thing we can say about Christiano is he is a great dad and that he is all about family.
The Portuguese star recently tweeted this adorable photo of his kids in the pool with the caption:
Os meus bebés Eva e Mateo cumprem hoje o seu primeiro aniversário! Parabéns meus queridos filhos!?????
We translated it for those of us who don't read Portuguese:
My babies Eva and Mateo are celebrating their first birthday today! Congratulations, my dear children!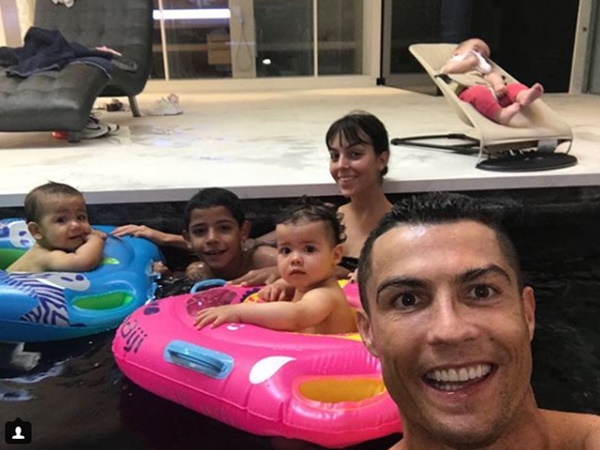 Hey, what's a little exploitation of your family since he has four children and a very interesting lifestyle? We wonder if he is pansexual like Panic! At The Disco Frontman Brendan Urie and Nico Tortorella of Younger. It seems pansexual is the new down low for men. What do you think about the Spanish club Real Madrid forward getting a reality TV series so fans can see what his personal life is all about?
At least we're NO LONGER reporting that Christiano is padding his penis. 
Are you for a Cristiano reality TV series or NOT?
Let us know.