Things are NOT looking good for the Dallas Cowboys since their star quarterback Dak Prescott rejects Cowboys contract offer!
Read on to see why Dak Prescott NEEDS to be the Dallas Cowboys number one priority over Ezekiel Elliott…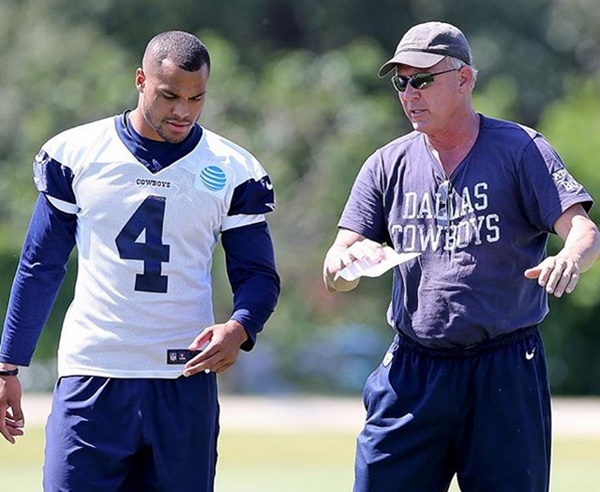 CelebNSports247.com is reporting that the Dallas Cowboys made a contract offer to quarterback Dak Prescott, but his reps were unimpressed, so they sent the team back a counteroffer.
This doesn't mean that they unable to come to an agreement, it just means that the Cowboys better bring their number up way higher to keep Dak Prescott on the team.
See, The Cowboys currently have more than $23 million in cap space for this season and nearly $75 million in cap space for next season. They can fit Prescott, Elliott and Cooper under the cap, but it will be snug. As long as all the money is sitting in unsigned offers on tables, however, they cannot be certain just how much they have to spend, and on whom.
The problem with the Cowboys is that Stephen Jones told KTCK radio in Dallas last week:
We're damn sure not going to become a market-setter.
Prescott spoke briefly on the situation, per Jon Machota of the Dallas Morning News, saying:
I can't really say (how close we are). It's one from each side.
This is going to be an interesting situation to watch unfold. See what Dak previously said about the contract negotiations.
Signing Prescott to the contracts of the top 6 quarterbacks are getting these days is a risky proposition for the Cowboys. The Seahawks set the record with Russell Wilson – $70 million – he signed a four-year, $140 million extension with a total of $107 million guaranteed, including a $65 million signing bonus. Steelers QB Ben Roethlisberger will get $45 million base salary in 2019 roster bonus. Roethlisberger is set to make $21 million in 2020 and $19 million in 2021. Falcons Matt Ryan signed a $44.75 million deal, Jacksonville Jaguars QB Nick Foles inked a $30.75 million deal, Vikings Kirk Cousins got $28 million and Cardinals Kyler Murray inked a 4-year-deal for $24.1 million.
It's been said that Dak Prescott should be a $30 Million dollar man somewhere between Nick Foles and Matt Ryan deal, but Dallas refuses to be a market-setter.
Stephen Jones said recently that the team was hoping Prescott would be amenable to a team-friendly deal. Yeah we doubt that!