Dallas Cowboys quarterback Dak Prescott has been receiving lots of criticism since his comments about NFL Kneelers last year, which he says were misunderstood and taken out of context.
Now, an artist has gone the extra mile to express what he thinks about Dallas Cowboys quarterback Dak Prescott.
An artist took to social media with a mural taken from the movie Get Out, stating that Dak Prescott is in "The Sunken Place!" Continue on to see what Ice Cube is saying about the Dak sunken place mural…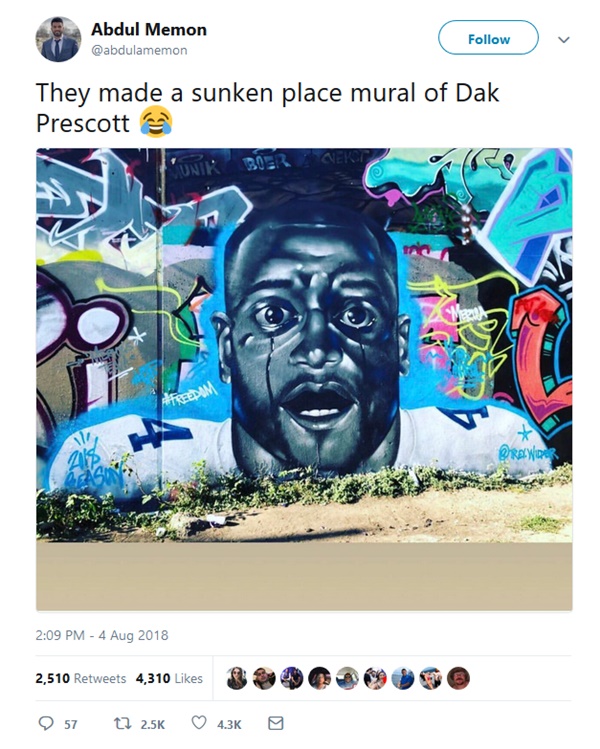 CelebNSports247.com has to say, first, the mural is terrific, great work. Now, we feel it's messed up because Dak Prescott just gave his point of view and he's still dealing with the backlash.
Ice Cube is now going to bat for Dak Prescott — saying people trashing the QB for wanting to stand for the national anthem can go eff themselves!
Dak's been getting crap for backing up Dallas Cowboys owner Jerry Jones who said his players will NOT take a knee during the anthem.
We previously reported on Dak said that his statements were taken out of context.
The media quoted Prescott saying:
I never protest during the anthem, and I don't think that's the time or the venue to do so.
The mural of the QB in the sunken place insinuates that Prescott has forgotten his place as a black man.
Thoughts?