Since D'Angelo Russell decided to EXPOSE Nick Young, his reputation has crashed and burned because D'Angelo Russell MOST HATED By Lakers!!!
Find out why The Lakers and fans are turning their back on D'Angelo Russell on the flip…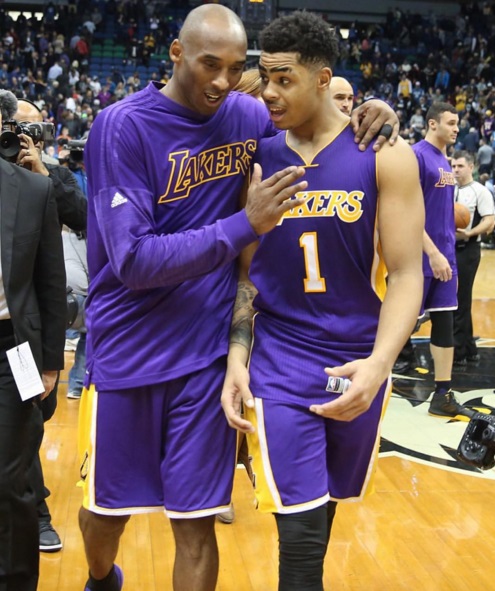 When D'Angelo Russell was introduced in the starting lineup on Wednesday night against the Miami Heat, the Los Angeles Lakers rookie guard was met by heavy boos from a Staples Center crowd, CelebNSports247.com has learned.
Before his stunt over the weekend that EXPOSE Nick Young cheating on Iggy Azalea, the Lakers cheered him all season long.
D'Angelo broke the bro code!
ESPN Reports:
The whole night, the former Ohio State standout was serenaded by fans booing him. From his first shot to a 3-point attempt from the right wing, fans continued to boo. The whole night, fans booed Russell, no matter how good he played, since his stunt blew Young out of the water and PISSED OFF tons of Lakers fans.

It was evident from the outset of the game that he would receive no sympathy from the Lakers' faithful in attendance a day after ESPN reported that a rift had developed between Russell and his teammates.
We previously reported the incident when Russell secretly recorded of Nick Young and EXPOSED him for the dirty dawg he is.
Like we said, NOBODY, except Iggy Azalea, likes a snitch because fans were heard shouting "Snitch!" and "Traitor!"
Russell said:
"I can't really show my face anywhere without people hating me right now."

"I don't know. I try to handle it the right way and remember why I'm here, which is to play basketball."
Of the boos, Russell added:
"Oh, I knew that was going to happen. It's all good."