Andrade is ready for a MEGA fight but is Canelo and GGG? Middleweight world titlist Demetrius Andrade wanted to send a message to the two major stars of the middleweight division, unified champion Canelo Alvarez and former unified champion Gennady Golovkin!
Demetrius "Boo Boo" Andrade did just that in a triumphant homecoming on Saturday night at the Dunkin' Donuts Center taking out his competition Maciej Sulecki with a KO. Read on to see how Demetrius Andrade CALLS OUT Canelo Alvarez…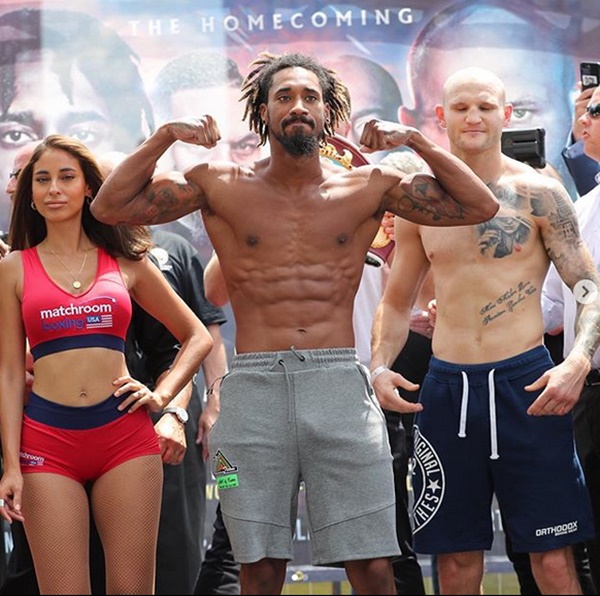 CelebNSports247.com reports that Demetrius Andrade aka "Boo Boo" drew a raucous crowd of 7,136 to the first fight of his 11-year professional career in his hometown, retained his 160-pound belt for the second time.
Demetrius Andrade knocked Maciej Sulecki down in the first round and rolled to a shutout decision 120-107 on all three scorecards.
Andrade put on the razzle-dazzle for boxing fans – His performance shows hat he is staying on track for a potential fight with Canelo or GGG.
Boo Boo called out Canelo Alvarez + GGG after the fight, just as he had beforehand.
Andrade (28-0, 17 KOs), 31, a southpaw said:
Where's Canelo? Where's GGG? What's the holdup? I didn't look past Sulecki. I just knew I was going to beat him.
He gave the hometown fans something to cheer wildly about in a huge opening round in which he wobbled Sulecki (28-2, 11 KOs), 30, of Poland.
Before you knew it, the fight against Sulecki was over as Boo Boo came with a left hand and then floored him with another left on top of the head moments later. It was brilliant. Andrade kept firing and hurting Sulecki, who was in all sorts of trouble throughout the round.
Demetrius is known for being a technician in the ring, but her turned up he aggression against Sulecki. He laid into him with multiple combinations and double jabs keeping a tight defense.
We have toa admit Andrade gave a crowd-pleasing performance.
Andrade had this to say about the other top middleweights' desire to face him.
If I would've stopped him? No. If I outbox him? No. I still beat [Sulecki] for 12 rounds. If you want to say you're a legend and you're the top guy, then you need to come this way. There's no other way. I don't want to fight the bottom guys. Sulecki is a top-10 guy. There are no more. I keep beating them, I keep beating them, I just keep beating them.