2018 is starting to suck for former Dallas Cowboys Dez Bryant since he was suddenly cut from the team without warning. We are hearing there was some real shady antics conspiring behind Bryant's back and that is how he was cut.
Read on to get the tea spilling on why Dez Bryant was cut and why no teams will sign him. We hope they don't do him like Colin Kaepernick…
CelebNSports247.com is hearing that Dez Bryant said he got cut by the Dallas Cowboys because there was some sort of locker room conspiracy against him.
It wasn't the players, he said, but some of the coaches who just didn't like him and went behind his back to put ideas in head coach Jason Garrett's head, according to TotalProSports who broke the news this week.
The Star-Telegram reports:
It was a collective deal. The [inability] to win one-on-one, to win down field. There was inconsistency as well as some huge things in his play. So what's best moving forward for Dez Bryant the Cowboys, we just made that decision. It's a production-based business. You have to make a decision to make sure you succeed and hold that trophy up.
Why Dez Bryant Is NOT Desired by NFL teams:
One of the main factors is that Dez stats have dropped over the years. In 2012-14, Dez Bryant averaged 91 receptions, 1,312 yards, and 14 touchdowns per 16 games. From 2015-17, he averaged 62 receptions, 834 yards, and seven touchdowns per 16 games. Meanwhile, his catch percentage went from 63.3% to 49.2%.
ESPN's Adam Schefter explained on Twitter: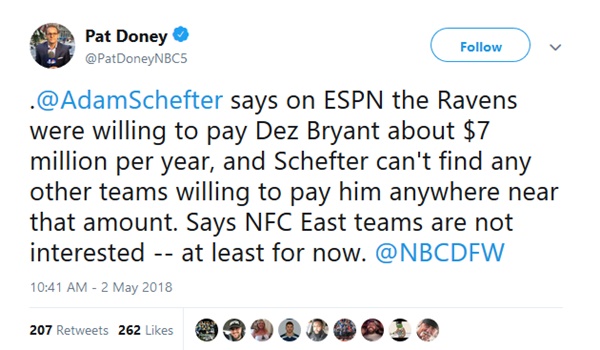 Yet, he was set to receive $8.5 million from the Cowboys, but since he was cut the NFL team can put that money towards a draft pick.
With the dip in performance Bryant will be lucky to get signed to a team at a minimum salary of $1 million per season.
It's a far cry from his $8.5M. The other problem is there is not much interest in Dez. The Baltimore Ravens have been the only team with any real interest in the former former Cowboys receiver. Hopefully. Dez lands on his feet in Maryland. Especially since the Redskins, Giants, and Eagles don't think paying Bryant $1M for one season is a good idea.
If he's not signed o a team, it looks like he'll be watching from the sidelines – Maybe he should look into transitioning into sportscasting?