Damn it's like that? Dez Bryant Responds After Female Fan Criticizes His WR Skills!
Dez Bryant is very active on Twitter and he replies to any and everybody who has something to say to him. Especially when its a woman claiming her man has better bedroom skills than Bryant ever did on the field. Ouch!!! Read on as Dez Bryant responds to Female Fan criticism…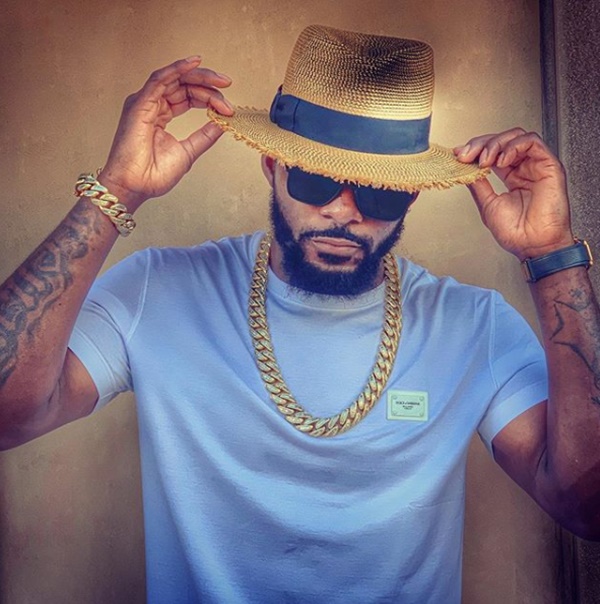 CelebNSports247.com reports that a female Cowboys fan relayed a message from her husband about how the former Cowboys WR should've put in more work on the field than he does on Twitter.
Of course, the tweet didn't go unnoticed by former Dallas Cowboys wide receiver Dez Bryant who had a response after a woman said on his Twitter feed:
My husband says he wishes your twitter talent reflected on your years as a cowboys player.
Dez had this response to the cold-blooded and hilarious Tweet, stating:
Well, tell your husband I hold the record for the most touchdowns in Cowboys history… I did really fast btw also tell him I bet I can outperform in a lot of different areas… wink wink.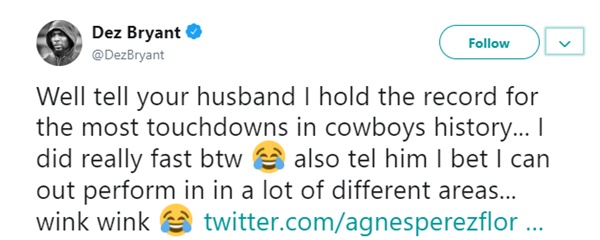 Fans of Bryant started weighing in on the defense of the Cowboys player:
I just don't understand any Cowboys fan that would ever say anything negative about you. It is beyond me man. I know you don't but don't listen the haters. It doesn't reflect on a majority of Cowboys fans feeling about your time here

— ISUCYCLONE FAN (@jmccullo) December 30, 2019
Dez, I have told people time & time again that Dak put U in bad positions most times. Your last season with the @dallascowboys U played defense on most of those throws. Plus EVERYONE knows that U can out leap DBs & to throw it UP! I guess he didnt get the memo Romo left him!

— Kevin Sivells (@Balou71) December 30, 2019
@DezBryant you were and im pretty sure you are still a beast, you were imo one of the greatest additions to the Cowboy franchise….to see you return would be amazing

— Gavino Suarez Jr. (@Gman_Jr213) December 30, 2019