Like we said the NFL is divided since Jay-Z partnered with Roger Godell. Some people are calling Jay-Z a sell-out and supporting Colin Kaepernick and others are just riding the Jay-Z train.
When it comes to the Miami Dolphins new head coach Brian Flores he's apparently team Jay-Z, but let's face it he works for the NFL.
Anyways, Dolphins HC Brian Flores, who is known to choose what music is going to be played at Dolphins' practice, decided to play Jay-Z all during practice after wide receiver Kenny Stills criticized Jay this past weekend. Who said coaches don't get any media attention. Read on to see how Dolphins HC Brian Flores TROLLS Kenny Stills with Jay-Z Songs…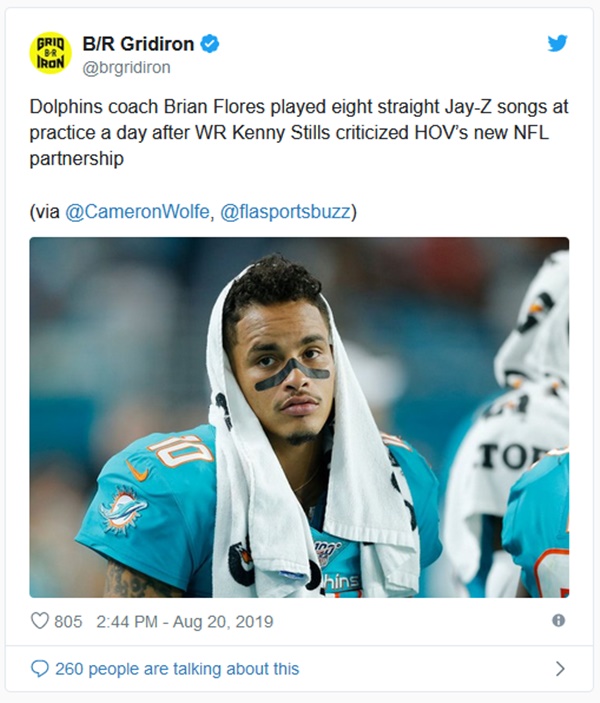 CelebNSports247.com reports the Miami Dolphins new head coach Brian Flores made his point clear to Kenny Stills that he does NOT support Colin Kaepernick or his movement.
ESPN reporter Cameron Wolfe revealed Dolphins HC Brian Flores playlist that Dophins players, mainly Kenny Stills, were forced to listen to during practice:
Playlist to start Dolphins practice: "Show Me What You Got by Jay-Z, "Brooklyn We Go Hard" by Jay, "Ni**gas in Paris" by Jay and Kanye West, and "Run This Town" by Jay and Rihanna. All in a row. Would be an incredible coincidence after Kenny Stills' comments about Jay yesterday.
Wolfe added:
Make that five in a row. "On to the Next One," by Jay-Z going right now. Another one: No Church in the Wild by Jay and Kanye.
He finished with:
99 Problems going now. This is either some big-time trolling or the DJ is the biggest Jay fan ever.
Kenny Stills stated on Monday that he would continue to kneel during the National Anthem at NFL games this upcoming season. His activism is NOT for show trust.
Well, on Tuesday, Dolphins head coach Brian Flores decided to play eight straight Jay-Z songs to begin practice.
Let's not forget that Stills was the same person who called out team owner Stephen Ross for his support of Donald Trump, all while having his RISE non-profit initiative for equality.
Flores has made it clear by playing Jay-Z songs that he is not fond or please with Kenny's support for Kaepernick. This is what Kenny was speaking of when he said Jay Z has never kneeled. Instead, Jay is on the oppressor side. Just saying!