The Toronto-based rapper and Raptors superfan was courtside for both games at Scotiabank Arena and talked plenty of trash to the Warriors players.
Well, Drake is trash talking again, but this time he put all his focus on injured player Klay Thompson who was out for Game 3 after suffering a pulled hamstring in Game 2 of the NBA finals. Read on…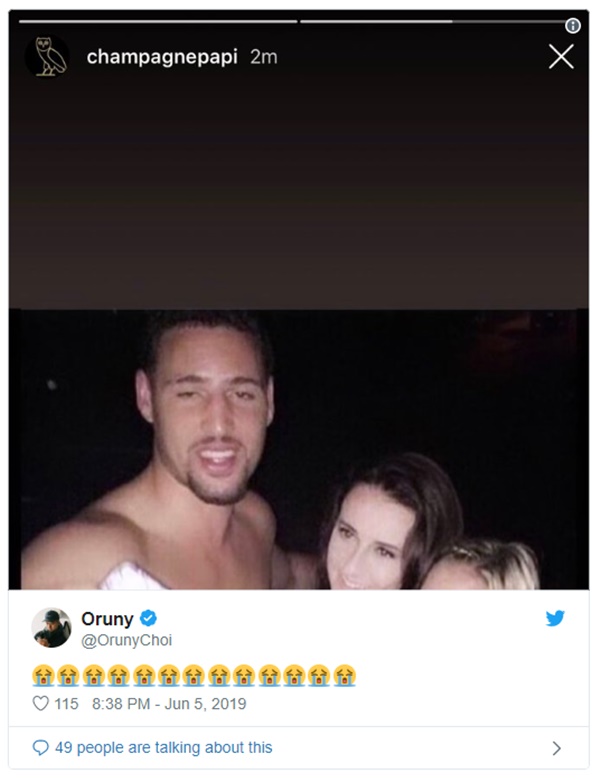 CelebNSports247.com reports that the Golden State Warriors felt the pressure tonight without Klay Thompson and Kevin Durant not on the court. However, that made Drizzy Drake plenty happy so he did what he does best he talked major shhh, but this time from home.
Maybe Kevin Durant scared him off calling him a Bum @ss after Game 2?
There was the expectation that Drake would be in the building for Game 3 at Oracle Arena, but Drake was nowhere to be found. He also remained quiet until the final buzzer.
No matter, Drake did it again and, oh man, he was ready to go again with the trash talk once the Raptors locked up their 123-109 win over Golden State to take a 2-1 lead in the series.
Drizzy went straight for the injured Klay Thompson.
Following the game, Drake posted the photo to his Instagram Story after the game. (above)
Drake added his own twist on a meme from a 2016 photo of Thompson partying in Las Vegas:
Stay Golden my friends…goodnight.
You know Drake had that photo ready to go in the chance that Toronto took Game 3. Here is the original meme: