Drizzy Drake has proved he is a HUGE sports fan, but the NBA doesn't need that type of language in their house!
Read on to see what the NBA said to rapper Drake…
CelebNSports247.com has the latest on Drake who got warned by the NBA after reportedly calling Cleveland Cavaliers star Kendrick Perkins a "f—ing p—y."
According to reports, Drizzy Drake had gotten into it with Perkins on the floor of the Cavs vs. Toronto Raptors game at the Air Canada Centre.
Now, the NBA has issued an official warning to Drake about "the use of bad language" … this according to ESPN's Adrian Wojnarowski.
Woj says the NBA's exec V.P. of basketball operations, Kiki VanDeWeghe, spoke with Raptors president Masai Ujiri to help get the point across.
Perkins told Wojnarowski via text message:
I was talking to my old teammate (Raptors forward) Serge (Ibaka) walking into halftime, telling him, 'We about to win this game,' and Drake butted in talking s— to me. So I said something back to him.
Take a look how it played out last night via Sports Center:
Drake and Kendrick Perkins got into it again after the end of Game 1. (via @mcten) pic.twitter.com/ahve2NSo1M

— SportsCenter (@SportsCenter) May 2, 2018
ESPN writes: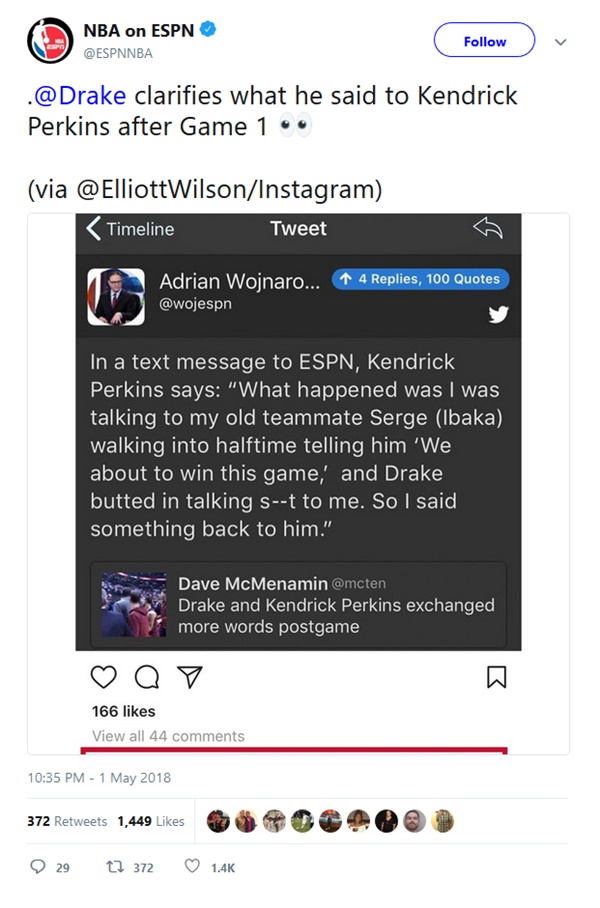 The Cavs big man doesn't seem concerned with Drake's trolling, though. According to ESPN's Dave McMenamin, when asked if he'd like an escort to the team bus in case he had another run-in with the rapper, Perkins responded with a smirk: "I'm fine. What's he going to do?"
We wonder if Drake will be watching his mouth at tonights game?