Someone close to Zion Williamson needs to have a talk to the young man about his celebrity and the THOTS out to do whatever it takes to get 15-minutes or a baby.
Zion Williamson was put on blast last week when a young lady at Duke posted a screenshot of the Blue Devils star attempting to hook up with her, but it backfired big time. Read on to see what just happened this weekend…
Zion Williamson is going to be a millionaire in a few months and women are out here fumbling the bag just for some attention. Women ain't shit. pic.twitter.com/dizyAbQ4Lc

— Barry McCockiner (@SportsTalkBarry) March 16, 2019
CelebNSports247.com has the latest on Duke superstar Zion Williamson who is the catch of catches for any THOT looking for a come up.
Zion Williamson, 18, is super hot and the ladies know it. Not only that the Blue Devils star has NOT learned that he's famous now and needs to stay off social media when trying to hook up.
Last week, a picture surfaced showing the future NBA top draft pick shooting his shot with a fellow student.
I have a big room come sleep with me.
Zion was trying to hookup and FAILED!
This week, another young lady tried doing the exact same by posting a facetime video of Zion laying shirtless in bed hoping to get more of him but the camera never went below his waist. (above)
Last week this surfaced: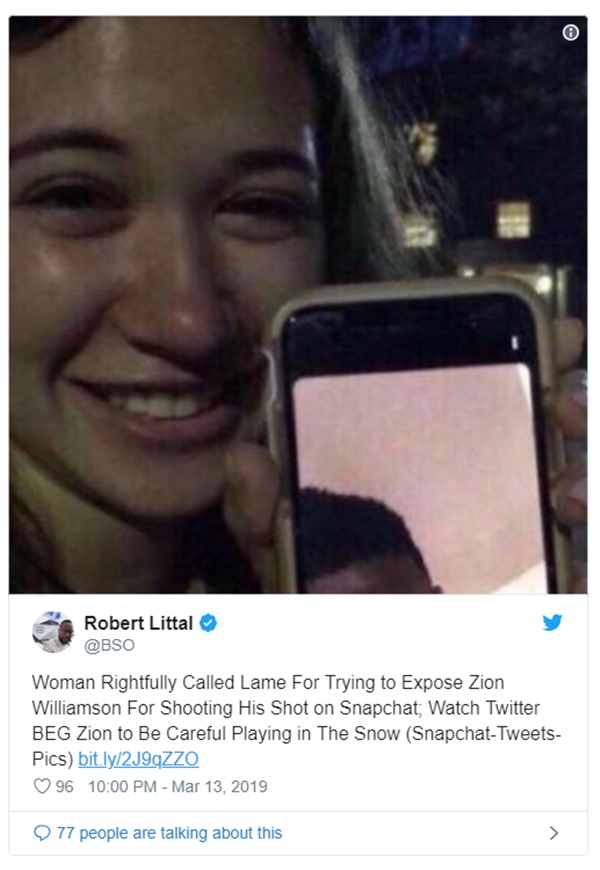 Bottom line, if Zion is heading to the NBA next year he needs to do some major changes, starting with a NO THOT rule. NO MORE FACETIME, No More Texting, NO More Tweeting when trying to hook up it can all be used against him and he doesn't NEED to get his dream RUING over a side piece.
Earlier today Zion Williamson was spotted talking about Duke got the number 1 overall seat:
Wake up as an ACC Champ ?

Get the #1 overall. ?

Let's do this @ZionW32 ?#SI6HTS pic.twitter.com/Bh7vvFOct3

— Duke Basketball (@DukeMBB) March 17, 2019
Ladies we get it, Zion is fine, he's funny, he's sweet, and he's that dream boyfriend but back off this man has a dream to accomplish.