In the history of the Super Bowl, there have been some mediocre performances, but the Justin Timberlake half time show was the WORST EVER!
If you ask CelebNSports247.com, the half time was an EPIC FAIL! Justin Timberlake was like watching paint dry. And then, his Prince tribute was AWFUL! Of all people to do a tribute to Prince? Timberlake and Prince were NEVER on good terms and their history stems back to an incident at an award show.  So why, Justin? That was a total sell out move. BOOOOOO! Read on because we're NOT the only ones that didn't like the half time, Philadelphia Eagles Alshon Jeffrey gave zero F*cks about Justin…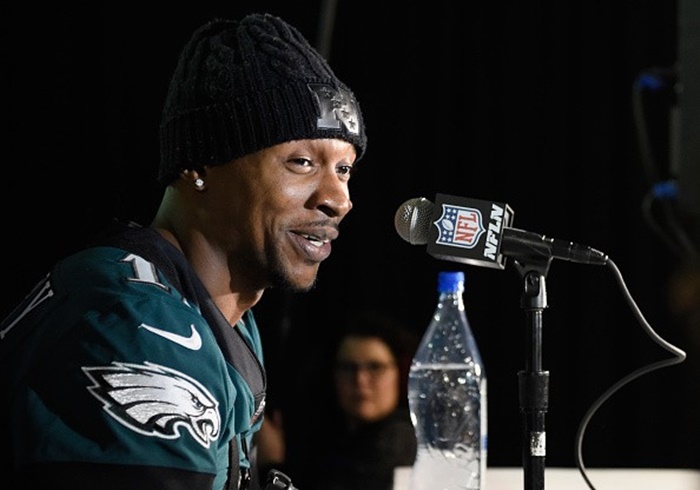 Philadelphia Eagles wide receiver Alshon Jeffrey, was all about playing football once the team got down to Minnesota.
All Alshon Jeffrey wanted to do was focus on winning the Super Bowl and taking out the New England Patriots. Unfortunately, it wasn't that easy because all team players had to participate in various interviews to be asked all sorts of questions that they didn't care to answer.
During an interview with KOAA News 5 reporter Grant Meech, Jeffrey was especially annoyed by Super Bowl week, and ALL his feelings came out while interviewing.
Watch Jeffrey's interview…Awkward:
Eagles' Alshon Jeffrey is over media availability at the #SuperBowl pic.twitter.com/tYhANeG2ye

— Grant Meech (@KOAAGrant) February 2, 2018
Justin Timberlake and that crappy half time performance didn't help. It was the worst EVER in Super Bowl history. Pink Killed the National Anthem, and she did it while being sick with the flu.
In fact, we heard from inside sources that JT's contract specified that he was the only performer on stage. We guess he's really feeling himself. The show would have been EPIC if he brought his form boy band mates NSYNC on stage or during the Prince tribute, he would have had Sheila E and some of Prince's close friends on stage. We guess JT didn't want to be upstaged since his performance was utterly lackluster.
During Super Bowl 52, Alshon Jeffrey had three catches for 73 yards along with a touchdown to help the Philadelphia Eagles defeat the New England Patriots at U.S. Bank Stadium.
Once again CONGRATS TO PHILLY and The EAGLES!