After signing with the Carolina Panthers in September, safety Eric Reid continued to kneel during the national anthem, just as he did alongside quarterback Colin Kaepernick when they were teammates with the San Francisco 49ers.
Now, Eric Reid believes that he has become a target of the NFL since they have continued to give him random drug tests. Read on for more on Eric Reid BLASTS NFL for Targeted Drug Testing…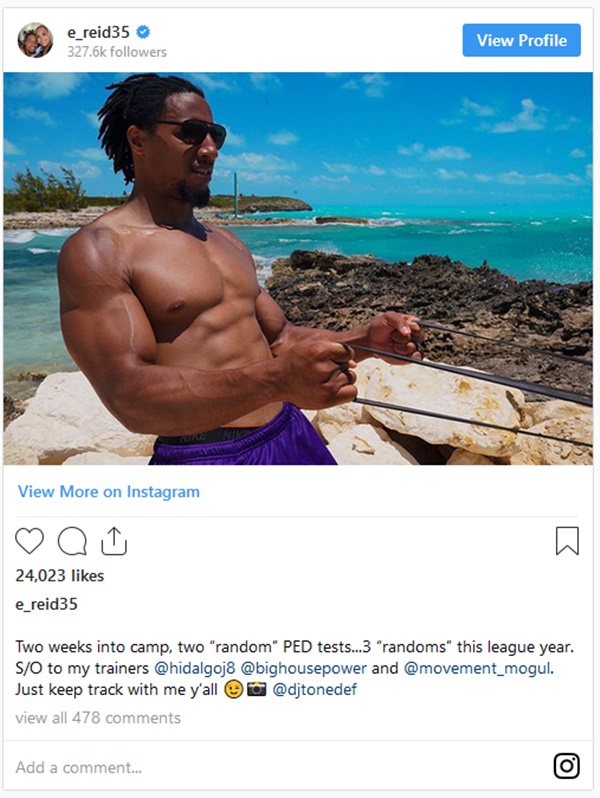 CelebNSports247.com points out that back in July Eric Reid made it clear that he would continue to kneel during the national anthem at Panthers games, but it seems the NFL is trying to find a way to get rid of him.
Instead of doing what they did to former NFL quarterback Colin Kaepernick, the Panthers are being shady by giving Eric Reid random drug tests. It's almost like they're hoping he will slip up so they can find an excuse to cut him.
Why Eric Reid BLASTS NFL?
If you recall, Reid told the Charlotte Observer's Scott Fowler after his first game with the Panthers last year:
I've always been considering what's best for the movement. I've always told myself when the time comes to stop kneeling that I'll stop — that time has not come.
Eric feels that awareness is more important than ever. He explained:
It feels like we're going backwards. You'd like to think we're past certain things, the way we treat people. I thought we were at a time where you love your neighbor as yourself. But as I've studied history — it hasn't repeated itself necessarily, but it's dressed a little different and is acting the same.
Interesting how we all see what Eric Reid is saying but Trump supporters and NFL owners keep saying otherwise? Maybe it's because they are all old white men over the age of 70?
Now Reid stated that he has been tested numerous times during the 2018 NFL season that he seemed to be targeted a lot for random drug tests by the league. Eric feels that the testing seems to be less than random each time he got one.
The Carolina Panthers safety is now claiming it has continued this offseason.
On Sunday, Reid shared a photo of himself working out and revealed he has already been drug tested twice during training camp and three times total since the start of the league year. He used quotation marks around the word "random," which is a clear indication that he feels like he's being targeted yet again.
Reid told reporters in his return to the league that he had been tested six times between September and November, stating, it "doesn't feel very random."
He writes:
Two weeks into camp, two "random" PED tests…3 "randoms" this league year.