Jaz-Z is one of Colin Kaepernick's biggest supporters, proving as much last year when he called the NFL out, dissing the league in a song called "APESH*T".
Fast forward to Wednesday, Jay-Z over-stepped telling the press stating that he had spoken with Colin Kaepernick, but in reality, had not. Former Giants running back Tiki Barber was in the room during the event stating, it was clear Jay is trying to advance the conversation that Kap started with his protest. But was that the way to do it? Apparently, NOT and Kaep's friend Eric Reid is weighing in…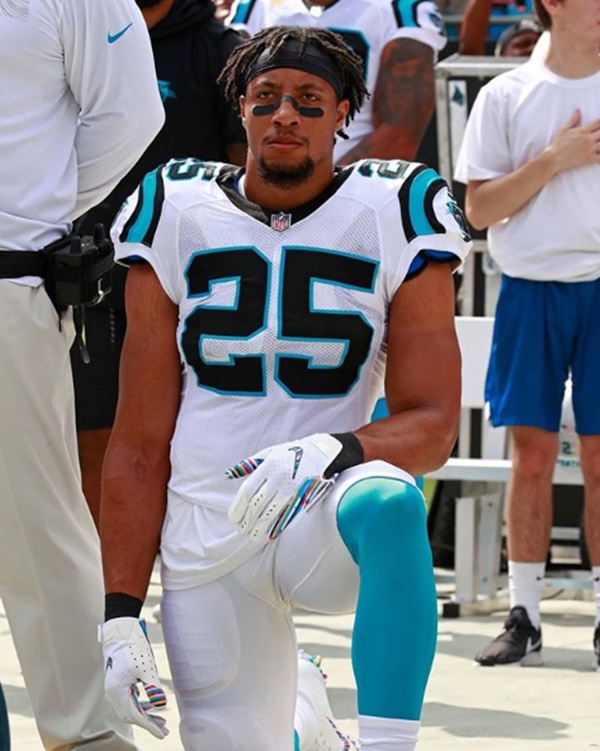 CelebNSports247.com reports that the 27-year-old Carolina Panthers safety Eric Reid had this to say on Jay-Z joining the NFL.
While Kaepernick salutes Reid for still taking a knee on the field, there are some changes coming, but it all seems wrongful according to Panthers Eric Reid.
See, things have changed quite a bit as it was announced on Tuesday that the hip-hop mogul is teaming up with the NFL for a music and social justice campaign where Hov will be the league's "live music entertainment strategist."
According to the new partnership between Roc Nation Sports and the NFL, it will include working together on the league's Inspire Change activism campaign.
Well, the former 49iners star who signed with the Carolina Panthers, had somethings to say about Jay-Z's Roc Nation Sports deal.
He took to social media calling out Jay Z and the NFL:
Interesting timing on the partnership with Jay-Z on the heels of Stephen Ross' fundraiser for Donald Trump and the backlash his other companies are getting because of it.
Of course, The Industry Misfit decided to question Reid by saying:
Eric, I rock with you but you are actually signed and playing with a team. Saying anything about any partnerships seems kinda weird ????? if you felt that strongly you didn't have to start back playing…
Reid quickly replied and explained to them that they apparently don't understand the movement or what is going on.
He says:
You & some others seem to misunderstand that we had no beef with the NFL until they started perpetuating the systemic oppression that we are fighting by blackballing Colin and then me. Nah I won't quit playing but I will be a royal pain in the NFL's a** for acting like they care https://twitter.com/rebelramon/status/1161466941912911872 …
He went on to say:
[Its] about people of color by forming numerous disingenuous partnerships to address social injustice while collectively blackballing Colin, the person who brought oppression and social injustice to the forefront of the NFL platform.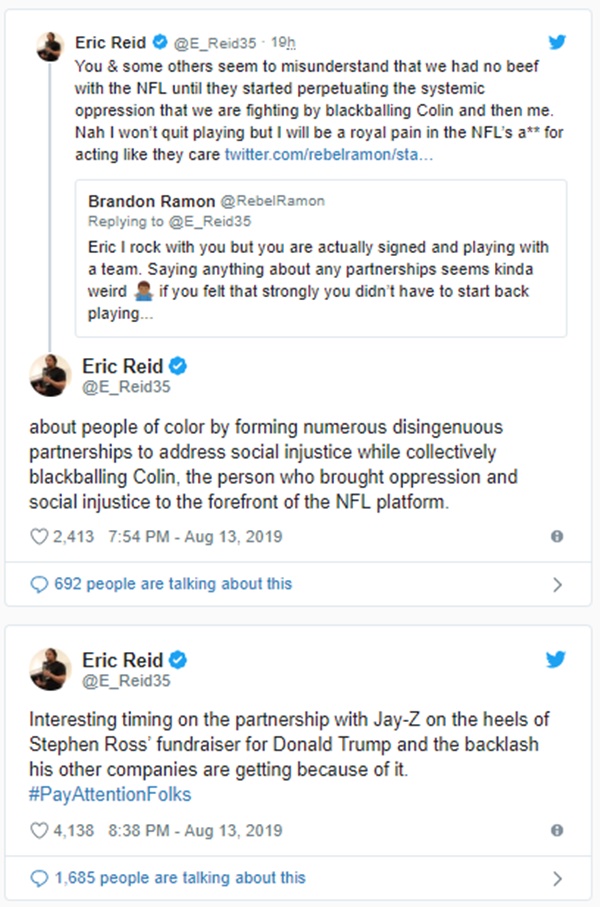 Eric Reid is still in the NFL, but that hasn't stopped them from making his life a living hell with targeted drug testing.
Thoughts?