Jay-Z may not understand or ever see it the way Eric Reid sees it, but using Colin Kaepernick's "fight for liberation" for self-gain and a way to merge Roc Nation Sports with the NFL is foul.
This is a straight-up non-sportsmanship way of doing business, which makes Jay Z no different than the men pulling the strings in the NFL and controlling and deciding players destinies. Read on to see how Eric Reid RIPS Jay Z for Disrespecting Kaepernick…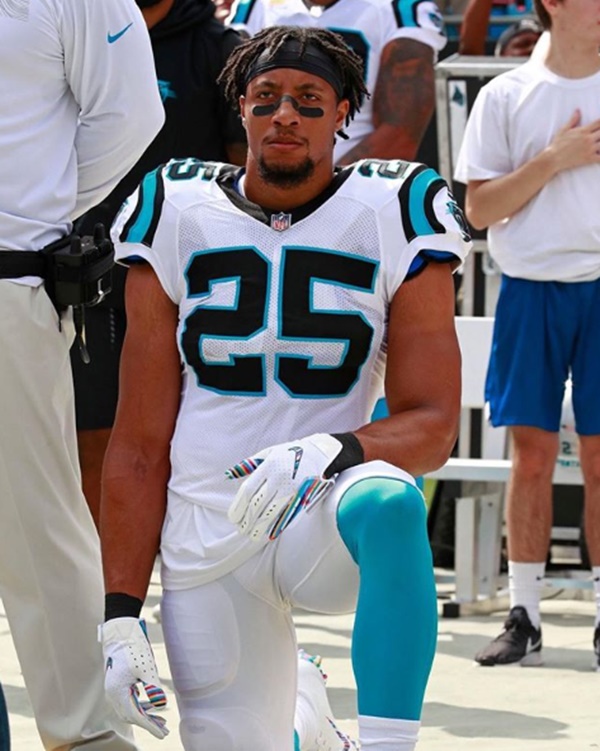 CelebNSports247.com has supported Colin Kaepernick since day one when he first kneeled and even before that. Kaep has brought attention to the ongoing police brutality that has been taking place in the U.S. while many turn their backs.
On Wednesday Eric Reid called out Jay-Z for teaming with the NFL and now he's doing it again after what Hov said about kneeling.
Not only that Colin Kaepernick has stood up for living black, brown or just a person of color. He spoke for those who had no voice and made a difference, but in the end, he lost his NFL career in doing so. Like Martin Luther King, Malcolm X, Rosa Parks, Obama, Harriet Tubman, and Jackie Robinson, Colin is an activist of our time and standing up for black rights and justice in America. Check out Lonzo Ball's new black history sleeve for a history lesson.
What is Jay Z doing?
He will now be in control of the music played and NFL games, as well as the halftime show during the super bowl, non of that,  has anything to do with the social injustice happening in America. But, Jay Z is getting support from the NFL, because that is what a sellout does. What is sad is that Jay stepped on Kaepernick, who put in the work, strife, and sacrifice and then used his platform.
What is worse is that Jay used Kaepernick's name in the press conference and NEVER called him as he claimed. #SMH
This is why Eric Reid took to Twitter once again to air some #FACTS!
Reid tweeted:
We never advocated for Colin to lose his job while we fought against systemic oppression. That's unjust, and where the NFL inserted itself into this. Now the NFL is "championing" social justice to cover their own systemic oppression in blackballing Colin. So we will fight.
He added on Thursday morning:
To get Colin's job back as well. Jay-Z knowingly made a money move with the very people who've committed an injustice against Colin and is using social justice to smooth it over with the black community.
(1/2) We never advocated for Colin to lose his job while we fought against systemic oppression. That's unjust, and where the NFL inserted itself into this. Now the NFL is "championing" social justice to cover their own systemic oppression in blackballing Colin. So we will fight https://t.co/J3JISFA3SL

— Eric Reid (@E_Reid35) August 15, 2019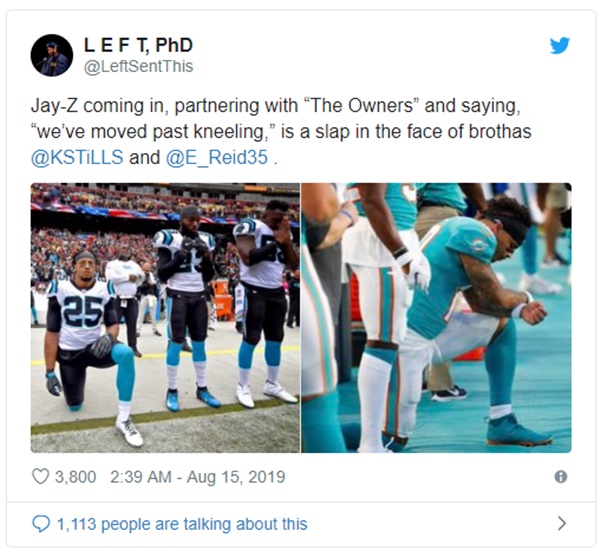 Eric retweeted one of Nessa's post that had broken heart emoji's