Three-time Super Bowl champion and former New England Patriots linebacker Tedy Bruschi suffered a stroke Thursday afternoon.
Following the shocking news that former New England Patriots linebacker Tedy Bruschi suffered a stroke his foundation has released a statement. Read on…
CelebNSports247.com reports that the former Patriots linebacker Tedy Bruschi is "recovering well" at a Massachusetts hospital.
46-year-old, Tedy Bruschi's foundation Tedysteam.org, confirmed in a statement Friday.
The statement reads as follows:
Yesterday afternoon, Tedy had a stroke, known as a TIA. He recognized his warning signs immediately: arm weakness, face drooping and speech difficulties. Tedy is recovering well and would like to thank the nurses, doctors, and staff at Sturdy Memorial Hospital for all they have done,. Tedy and his family thank you for your ongoing encouragement and kindly ask for privacy at this time.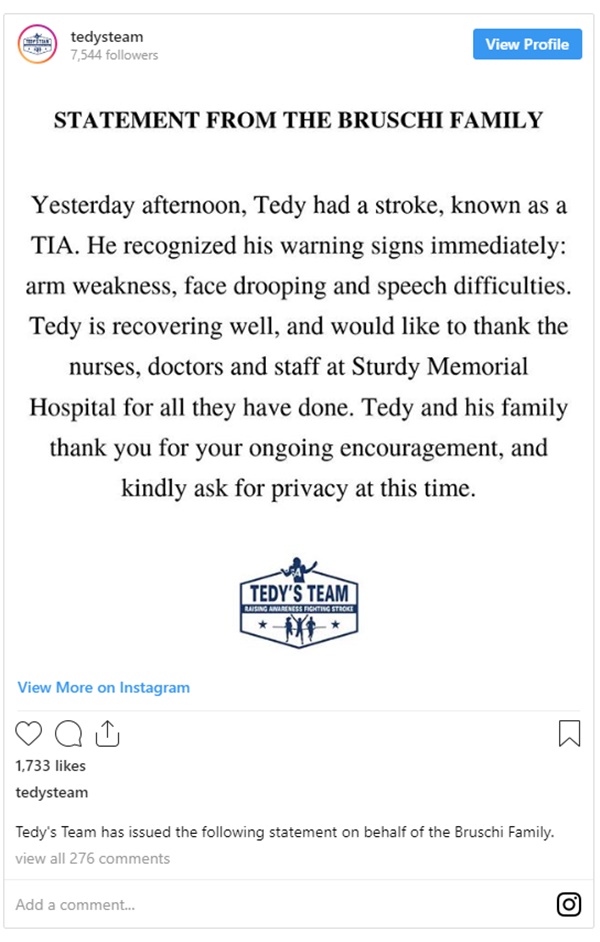 Bruschi previously suffered a stroke in 2005 at the age of 31, 10 days after the Patriots' Super Bowl XXXIX victory. He recovered in time to return for the 2006 season and played two more seasons before retiring in 2009.
Tedy Bruschi is currently an analyst for ESPN. He joined the network following his retirement in 2009.
Bruschi, 46, played 13 seasons in the NFL, all for New England including three following his stroke. He was part of three Super Bowl-winning teams for the Patriots.
Bruschi, who has been among the franchise's most popular players, was inducted into the Patriots' Hall of Fame in 2013.