On Friday, Cowboys running back Ezekiel Elliott tweeted a statement that he was "surprised and disappointed" by the NFL's six-game suspension!
Ezekiel Elliott says the NFL got it 100% WRONG by concluding he attacked his girlfriend on 3 separate occasions. Zeke says that he vows to appeal his 6-game suspension. Read on why Ezekiel Elliott Surprised and Disappointed…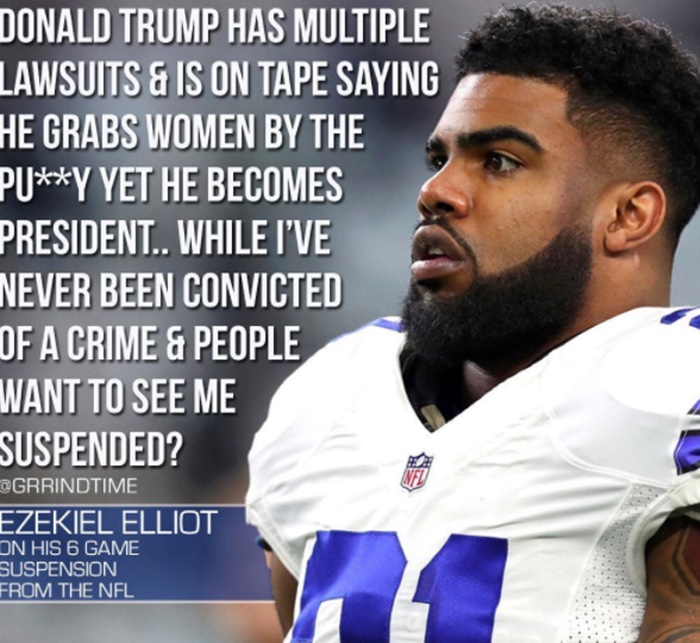 CelebNSports247.com has has learned via Ezekiel Elliott, who took to Twitter to release a statement in regards to the NFL's six-game suspension.
Elliott "strongly disagrees" with the NFL's decision. He makes it clear that he was "surprised and disappointed" of the end result.
Ezekiel Elliott Surprised and Disappointed Details:
Zeke posted his statement on Twitter which reads as follows:
"I am both surprised and disappointed by the NFL's decision today, and I strong disagree with the League's findings.

"I recognize the distraction and disruption that all of this has caused my family, friends, teammates, the Dallas Cowboys organization as well as my fans — for that I am sincerely sorry.

"I admit that I am far from perfect, but I plan to continue to work very hard, on and off the field, to mature and earn the great opportunity that I have been given."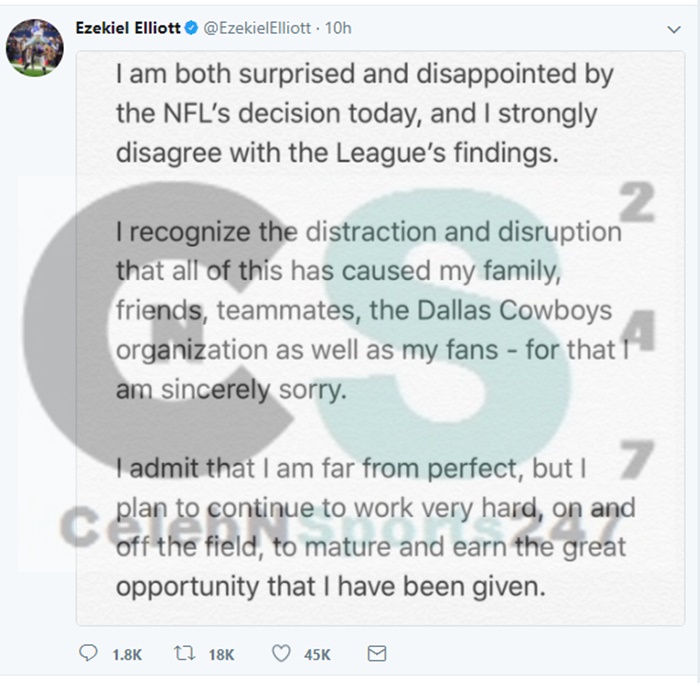 [rpi]
Meanwhile, the Dallas Cowboys star's camp said in a statement:
"Mr. Elliott and his team of representatives are extremely disappointed with the NFL's decision. The NFL's findings are replete with factual inaccuracies and erroneous conclusions and it 'cherry picks' so called evidence to support its conclusion while ignoring other critical evidence."

"For example, both the Columbus Prosecutor's office as well as the NFL investigators expressly concluded and conveyed to our office (and others) that the accuser was lying about an alleged July 22, 2016 incident whereby she accused Mr. Elliott of pulling her out of her car and assaulting her. An allegation that was ultimately undermined by her false allegation of assault."

"In addition, the NFL's own medical experts concluded that many of her injuries predated the week in question and likely occurred during a period of time when Mr. Elliott was not in contact with the accuser. During the upcoming weeks and through the appeal a slew of additional credible and controverting evidence will come to light."
Thoughts?
Do you understand and agree why Ezekiel Elliott Surprised and Disappointed?