We just heard a rumor that Ne-Yo's ex Monyetta Shaw has been spotted with a new man, and its former Tennessee Titans safety George Eugene Wilson!?!
Flip and get the tea that has social media chopping it up if George Eugene Wilson + Monyetta Shaw are dating or just FWBs….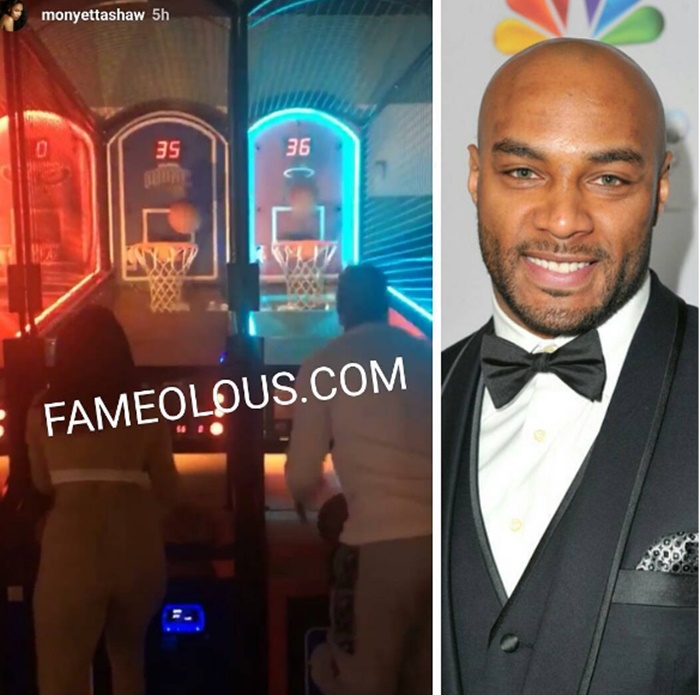 CelebNSports247.com has some tea that leaked online earlier today about former NFL baller George Eugene Wilson.
RUMORS about Moyetta Shaw smashing ex NFL baller George Wilson surfaced on Tuesday after the photo above surfaced online.
Then adding fuel to the fire, a source weighed in reporting:
"George Eugene Wilson, Jr. is an American football safety who is currently a free agent. He was signed by the Detroit Lions as an undrafted free agent in 2004 and played for the Tennessee Titans. We hear he and Monyetta Shaw may be a thing [Allegedly]?"
George Eugene Wilson Tea SPILLED!
Ok so here is the alleged tea being talked about online about George Eugene Wilson. According to the streets, "I heard Devon Diaz is pregnant, not Monyetta Shaw…[but now] hes messing with Monyetta now?"
The streets also suggest, "[Monyetta Shaw is] about to be 35 years old and is allowing a man to sleep around on her…desperation kills…its sad"

The chatter didn't stop there. Another thing that was said about George Wilson is that he NEEDS to watch his back. According to a source, "Monyetta post snaps of him when he ain't looking, to try to run off Devon. She plan it by getting her friend to video them when his back is turned."

The source said that "Devon is not going anywhere, Monyetta will be with someone else in 6 months." It didn't stop there, it was also said, "Monyetta met his son she try's to act like they just friends with benefits so she can get closer. She invited his son to her kid's birthday party."
Basically Moyetta is trying to land herself an ex football player. George is very attractive and a catch to many women. But he's apparently taken by two women, and one is allegedly pregnant? Oh what tangled webs one makes just to play the field!
The RUMORS started swirling after"Fameolousent posted the snap screenshot of them out together yesterday she told her friends she gonna get him down the aisle give him threesome like she did for Ne-Yo. Everyone in Atlanta think she his beard."
It sounds real messy if you ask us, but this is a hearsay at this point.
We will keep you posted if we get any updates…