After Iggy Azalea heard her ex-fiance Nick Young make the comment "I've came a long way, haven't I? From getting snitched on, to putting a ring on," it struck a NERVE with her.
Iggy Azalea has since moved on but when it comes to dragging her name over a year later she's not pleased her ex Nick Young can't let it go. Read on…
CelebNSports247.com has the latest from Golden State Warriors Nick Young who basically put his foot in his mouth and back in the doghouse with women everywhere, minus the THOT's who just want the D.
Nick thought he was living his best life when a reporter congratulated him in the locker room after the Golden State Warriors won the NBA championship for 2018.
Swaggy P, aka Nick Young, maybe 33-years-old but his immaturity is still stuck on 23.
Young gave the quote of a lifetime when he stated he went from getting snitched on, a reference to his former Lakers teammate D'Angelo Russell secretly recording him talking about cheating on his then GF-Iggy Azalea, to winning an NBA title.
Take a look below because Swaggy P got his first taste of winning an NBA Championship and reporters couldn't wait to interview him.
And as they hoped he delivered some juicy tea:
"I've came a long way, haven't I? From getting snitched on, to putting a ring on" – @NickSwagyPYoung pic.twitter.com/rXL5i4PXT6

— Sports Illustrated (@SInow) June 9, 2018
It only took Iggy a moment to CRUSH his boyish remarks!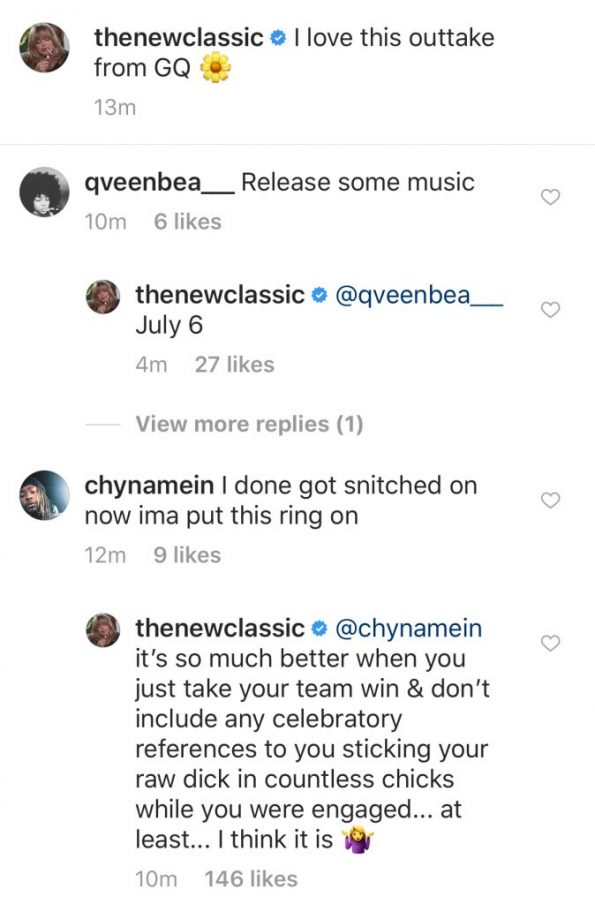 So exactly who is over who again, because it appears someone is still SALTY he messed up and lost his woman. Iggy is better off without her man-child.
Despite the drama between Iggy and Swaggy P, his teammate JR Smith, who will be remembered mostly for his costly blunder in Game 1 congratulated his lil bro. (photo upper left)
JR writes:
Congrats to my lil bro @swaggyp1 can't tell you how proud i an of you bro bro!! They don't like to see people like us on top so enjoy it like no other! First they hate you now you win they love you! Stay true to the #Swag P oh yea #NoShirtBrothers.
Thoughts?