Homewrecker Diaries: Iman Shumpert only played 14 games with the Cleveland Cavs this past season before he was traded to the Sacramento Kings where his time on the court was 0.
Now, the former Cleveland Cavaliers player Iman Shumpert is getting sucked into the Tristan Thompson scandal thanks to a vengeful Instagram Model aka THOT! Read on for all the tea spilling…
CelebNSports247.com has the latest on the Tristan Thompson scandal which is now pulling Teyana Taylor's husband Iman Shumpert into the mess.
The Instagram Model known as Ms. Stephanie Woods decided to tease a photo implying she was sleeping with Iman Shumpert which pissed off his wife Teyana Taylor.
Taylor, who is NOT one to mess with, jumped on Twitter and basically wrote the entire thing off with a joke.
Yes, Teyana took the high road because she doesn't have time for a THOT wanting a come up:
Despite Tristan Thompson's side chicks heartless attempt to prove she's nothing but a pass around chick with NBA players. Taylor responded to Woods claims dusting them off with this post: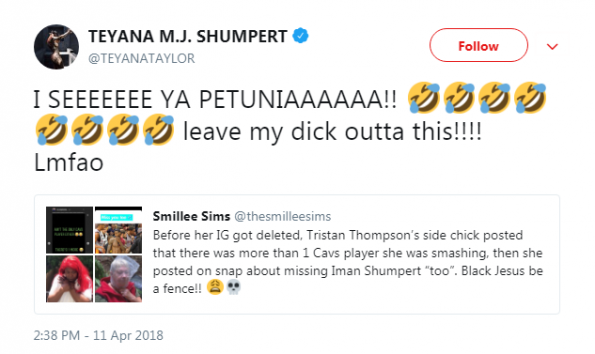 What Ms. Stephanie Woods doesn't realize is that she is playing with FIRE if she continues.
Woods didn't stop there, she continued on responding with Instagram photos and more of her history with Iman. She even posted a picture of his banana to prove that he is cheating on Teyana.
Take a look at the exchange of social media posts from Tristan Thompson's side chick because she is becoming ruthless:
This woman is nothing but a THOT out for her 15-minutes of fame and a come up. Why don't athletes realize that any woman who says she's a Instagram model is today's gold diggers looking for a money grab?
Hello NBA, NFL and MLB check your players because they stuck on stupid for gold