The Dallas Cowboys Ezekiel Elliot + Dak Prescott have been all the talk since they were drafted together three years ago.
The quarterback and running back seemed to have an inseparable bromance, but rumors are swirling that's changed.
Read on to get the tea spill on Ezekiel Elliott + Dak Prescott bromance possibly over…
CelebNSports247.com is actually sad to hear that Ezekiel Elliott + Dak Prescott bromance may be over, but we are hoping if they're arguing that the two Cowboys make up.
Dallas Cowboys running back, Ezekiel Elliott + Dallas Cowboys quarterback, Dak Prescott was spotted hanging out at Drai's Beachclub & Nightclub last week.
It has also been reported that a supposed incident between Ezekiel Elliott was accused of trying to start a fight with the resident DJ at Drai's Beachclub & Nightclub.
In addition to the incident in question, Zeke was hanging out with his bro Dak Prescott and a few other teammates who had been in Vegas for the past few days, according to DJ Franzen, according to TotalProSports 
DJ Franzen said:
Dak was just inside Drai? in Vegas with his running back, they're both bums.' Yes, I'm the host. Zeke has been here since Thursday. Just him and Dak yesterday, was with three linemen on Thursday.
After, some digging, it was revealed that the DJ was Lying about Zeke starting the fight. In fact, it was Franzen who was trying to start things with the Cowboys since he was a San Francisco 49ers fan.
Following the reveal of who was the instigator, someone noticed that Zeke is no longer following his bro Dak Prescott on Instagram anymore.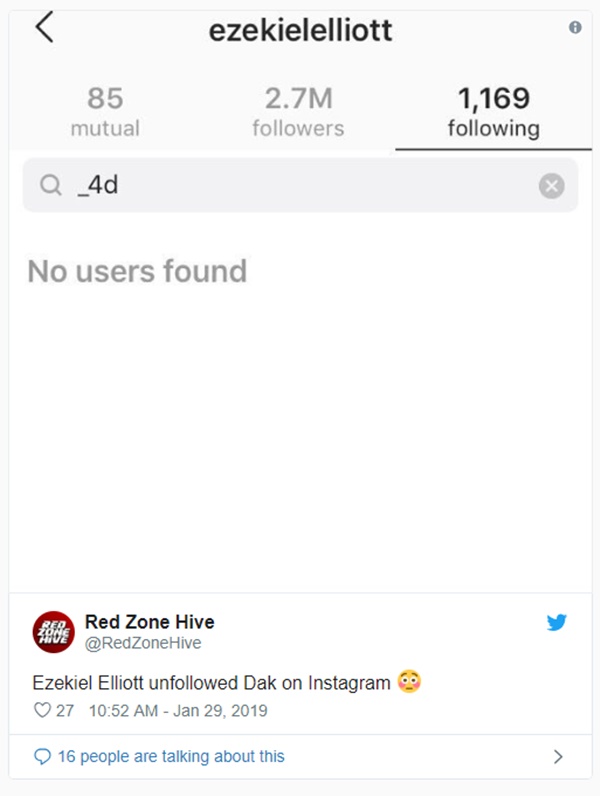 Something else must've happened between Ezekiel Elliott + Dak Prescott bromance on that night?
This is not what the team needs as they try to build on a 10-6 season 2018 campaign where they started 3-5, especially with WR Amari Cooper.
Just two weeks ago Zeke was spotted saying "GROWN ? MAN. Love You brother" on Instagram hugging Dak.
Zeke even referred to Dak and himself as the "THE LAST OF A DYING BREED" on January 2, 2019.