Is Myles Garrett telling the truth or not?
It has been stated that an NFL Spokesperson Says League 'Found No Evidence' of racial slur made by Mason Rudolph. This doesn't look good for Garrett if he is NOT being honest about the brawl. Read on to get more on Myles Garrett racial slur accusations…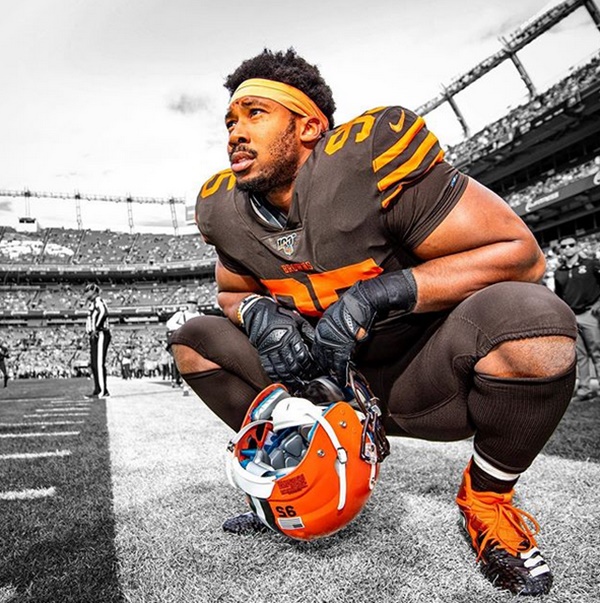 CelebNSports247.com has the latest news regarding Myles Garrett's allegations against Steelers QB Mason Rudolph.
On Thursday, Browns defensive end Myles Garrett told NFL officials during his appeal that Steelers quarterback Mason Rudolph used a racial slur and that is what fueled the helmet pull off and hit.
If you look at the footage you can see Rudolph yelling at Garrett, but teammate Cam Heyward says Mason said to him during practice I did not say that."
Cam believes that Mason "is being villainized by it."
Now, ESPN's Adam Schefter stated an NFL spokesperson relayed to him that the league had found nothing to corroborate that allegation.
NFL spokesman Brian McCarthy said the league looked into Myles Garrett's allegations that Mason Rudolph used a racial slur last Thursday night before the brawl "and found no such evidence."

— Adam Schefter (@AdamSchefter) November 21, 2019
This is NOT looking good at all. If Mason did use a racial slur towards Myles Garrett, then he NEEDS to be honest. But sometimes people don't do the right thing to protect their assets, for Mason that would be keeping away from a suspension and fine or possible cut.
However, Myles is now looking like the villain if proven a liar. His suspension could end up permanent and all his brothers in the NFL could turn their backs. According to Coach Kitchens, Myles has always been professional about everything, so it's NOT like him to lie about Mason using a racial slur.
Wide receiver Odell Beckham Jr. said he believed his teammate.
Beckham said:
I just don't see Myles as someone who would lie or do anything like that. At this point, it is what it is. We're all just kind of waiting and just hoping that justice is served.
Thoughts?