Janoris Jenkins Messed Up Slur Apology Again!
Last week we reported that the now-former New York Giants cornerback Janoris Jenkins' playing days in the Big Apple are over.
Well, it appears that the new New Orleans Saints CB Janoris Jenkins just can't get his slur apology right. Read on to see how Janoris Jenkins messed up his second attempt at the Slur Apology…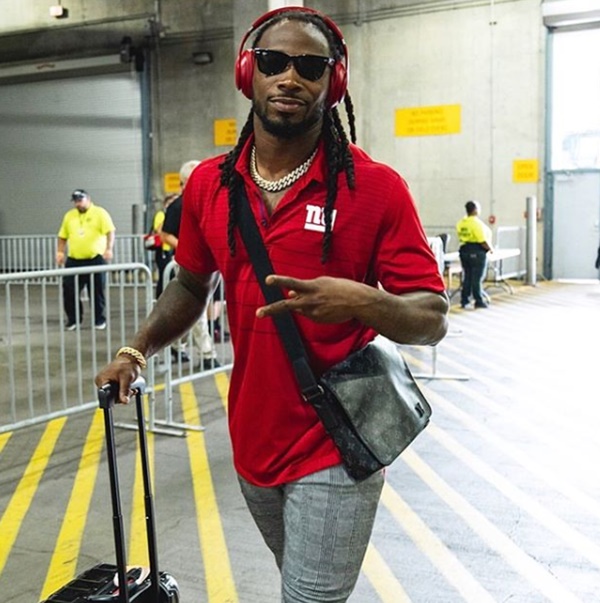 CelebNSports247.com reports that Janoris Jenkins paid the price and was cut by the Giants for calling a fan a "retard" and then failed to sound sincere with his apology.
Janoris Jenkins, 31, was released with one year remaining on his five-year, $62.5 million deal, but would be picked up by a Super Bowl contender.
That appears NOT to have changed for Janoris Jenkins the new New Orleans Saints cornerback spoke to reporters on Wednesday and he appeared to learn nothing.
Jenkins told reporters:
I mean, I never stood by it. They twisted it. I said I'm sorry to whoever I offended. The way I was raised, we got different cultures and different terms that you use. If I was to go out there and say, 'Hey, you went r——- on [the] football field,' would you look at it as me talking about somebody disabled? Or would you look at me [as] saying, 'Oh, he did some crazy stuff out there, some amazing stuff?'
Jenkins totally changed up the way he used the word which we've heard used that way many times. It was reportedly much different in how he used it towards the fan.
Janoris who should have just said I'm sorry and NOT have gone into this much detail just doesn't get it.
He said:
It's just different terms and I feel like people just took it the wrong way. Once again, like I did five days ago, I'll do it again: I apologize if I offended anybody or anybody with those disabilities. I didn't mean it that way.
Jenkins said:
Business is business. You can't control what they do in the front office. You just go in each and every day and go to work. And anybody around that facility can tell you that 'Jackrabbit' always showed up on time — never late — and did what he had to do.

I never had any problems over there other than this one. But I was just focused on playing football.
He explained:
I never said it was right. I said it was slang that I use back at home. Yeah, I regret it. But at the end of the day, it's my slang, so if you take it how you're going to take it, then that's on you.
Janoris added:
I don't mean to offend nobody. My daddy always told me, 'Speak freely and own up to what you say.' So I always speak freely as a man, and I speak how I want to speak.
Thoughts?