Like Dame Dash said about Havey Weinstein, Dirty Laundry always seems to surface and thanks to security cameras, Jarvis Landry Pushing Baby Mama Video Surfaces.
In September, Dolphins wide receiver Jarvis Landry was cleared of all charges of domestic violence after a Florida state attorney decided not to file charges after investigating an incident that occurred in March. Read on and watch the video of Jarvis Landry pushing his baby mama in the face …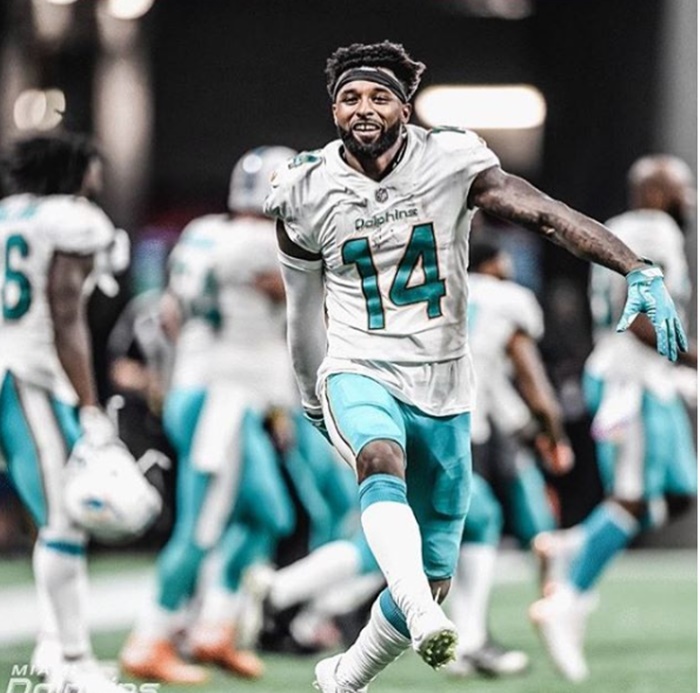 Miami Dolphins star wide receiver Jarvis Landry rep says the contact seen in the video was not a push but rather "incidental contact" during an argument, CelebNSports247.com has learned.
According to TMZ Sports, the surveillance footage, which was taken on April 1st, has been blurred out by police but shows Landry confronting the woman outside of his Florida apartment complex.

The woman, who Landry has a child with, had initially told police that he battered her, though Landry refuted the claims telling cops she had hit his body and got back in the car. The woman later switched up her story and told investigators she was just emotional from having a kid and explained how she "exaggerated" the facts during the initial police call.

Cops say in the raw version of the footage it's quite obvious that Landry did not slap the woman, and was only trying to take a cell phone from her.
[rpi]
Unlike Ezekiel Elliott's case, a NFL spokesperson has confirmed that the Dolphins wide receiver Jarvis Landry won't face league discipline under the Personal Conduct Policy due to "insufficient evidence."
Is that fair?
Watch the video and you decide:
Thoughts?