The controversy has been roiling since mid-August – has Jay-Z sold his soul to the devil to become part-owner of an NFL team?
If he did, he's hardly the first. But his big hug with NFL Commissioner Roger Goodell and the announcement at a presser that the billionaire rapper and entrepreneur would partner with the National Football League to be its "live music entertainment strategist" has rubbed many the wrong way. It didn't help that, days after there was an alleged "leak" from an NFL insider saying the rapper was on track to own part of an NFL team. Read on to see if Jay-Z sold his soul to the devil…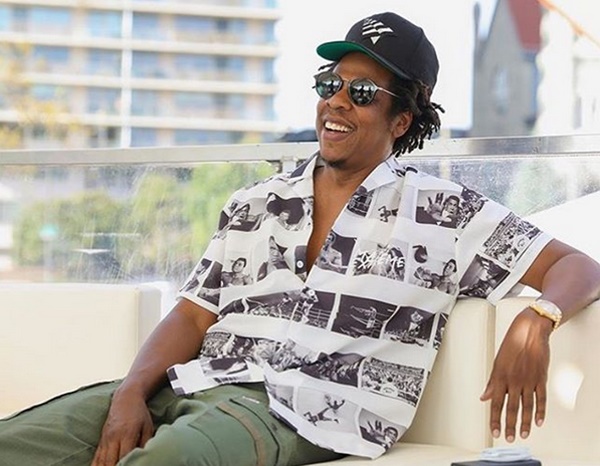 A few footballers have had some choice words for Jay-Z accusing him of abandoning former QB Colin Kaepernick and his cause, while others are trying to keep their eye on the ball – the football that is – as the NFL is kicking off its regular season Sept. 5.
There is plenty of time to check the NFL odds at Sportsbook Review and pick NFL winners or possible look at the props for the possibility of a bet on which player is contemplating sacking Jay-Z.
On Aug. 13, it was announced that Roc Nation, founded by Sean "Jay-Z" Carter would partner with the NFL to "enhance the NFL's live game experiences and to amplify the league's social justice efforts."
Also, as part of the agreement, Roc Nation will advise the league on the selection of artists for NFL performances, such as the Super Bowl, that will help "nurture and strengthen community through football and music" along with the league's Inspire Change Initiative.
At the news conference, which by the way on the third anniversary of Kaepernick's first anthem protest, it seemed the NFL was closing the book on the Kaepernick kneeling during the anthem chapter and was announcing how the league was moving forward and confronting racism in its own way.
"We forget that Colin's whole thing was to bring attention to social injustice. In that case, this is a success," Carter said at the news conference. "This is the next phase. There [are] two parts of protesting. You go outside and you protest, and then the company or the individual says, 'I hear you. What do we do next?'"
He said:
"I think we've moved past kneeling. I think it's time for action.  So, what are we going to do? Reach millions and millions of people, or we got stuck on Colin not having a job?"
A few days after the NFL news conference, TMZ reported that Carter was going to become part-owner of an NFL team and the wheels came off the bus.
Activist Shaun King, sports journalist Jemele Hill and Carolina Panther's safety Eric Reid blasted the rap mogul. Diddy supports Carter's NFL partnership whereas Rihanna believes that "Jay-Z was wrong" to join forces with the league, according to Uproxx.
Reid criticized the rapper for what he considered his inadequate support of Kaepernick, who began kneeling as a protest of what he saw as police brutality against black men. Kaepernick hasn't played in the NFL since 2017, but not for the want of trying to. The former San Francisco 49er QB settled with the NFL over his accusations of collusion to keep him out of the NFL.
"Jay-Z claimed to be a supporter of Colin — wore his jersey, told people not to perform at the Super Bowl because of the treatment that the NFL did to Colin," said Reid, as reported in USA Today… "And now he's going to be a part-owner … it's kind of despicable.

"He's capitalized on this situation. Nobody to my knowledge talked about social justice before Colin started protesting," Reid continued. "That was not a topic of the NFL off the field. For Jay-Z to come in and partner to address social justice, do it behind Colin's back, get paid to do it … I don't have words."

Music industry veteran Irv Gotti said "it almost looks like the NFL manufactured and manipulated Jay to be the front and face of the bullsh*t" while his presence makes people "forget about" Kaepernick's plight.
Kaepernick has yet to say anything directly about Carter but did tweet on Aug. 18 a photo of kneeling football players that some think sounds like a response: "My Brothers @E_Reid35 @KSTiLLS @iThinkIsee12 continue to fight for the people, even in the face of death threats. They have never moved past the people and continue to put their beliefs into action. Stay strong Brothers!!"
No one from the NFL or Carter has confirmed or denied the TMZ story about Carter's possible ownership stake. No specific team has even been mentioned.
Carter did play a sign. Several media outlets, most notably CBS, reported that Carter is nowhere near owning any part of an NFL team.
According to CBS Sports, sources "connected to NFL ownership and the league office have told CBS Sports that this TMZ-reported rumor is simply false, that there are no plans in place for the rap legend to become an NFL owner."
Unsubstantiated allegations began flying around that Carter's deal to front the NFL's fight against social injustice was a door opener to him buying into team ownership.
The CBS report said, "the deal does not include any ownership stake or parameters of a potential one."
Of course, that doesn't mean he doesn't want to own part of the team. Also, it is expected he will fulfill his obligations in his role for the NFL.
Carter does have a small part of the Brooklyn Nets and campaigned for their move to Brooklyn. The NFL is more stringent, and Carter would be fully vetted, approved by the membership and he would have to get rid of his business of athlete representation, according to CBS Sports.
Time will tell if this TMZ report is truth or a lie, but now interested parties are awaiting Carter's next move.