The 28-year-old Minnesota Timberwolves Jimmy Butler seems to have a new Los Angeles native on his arm these days.
Take a look at Jimmy Butler's rumored new girl, but wait until you see who she is a friend of? We will give you a hint, Her friend's husband was a quarterback in the NFL for half a season until he lost his job due to his party lifestyle. Read on…
CelebNSports247.com has received word via TO that Jimmy Butler who loves him some Los Angeles has hooked himself a beach beauty.
It's been reported that Jimmy Butler spends most of his time in California soaking up the sun and getting plenty of the Southern California hospitality.
Butler is especially popular with the hot ladies of Los Angeles because he's has a new trophy for the summer to chill poolside and club with.
The site claims that Jimmy's new girl name is Jiordyn, who just happens to be friends with Bre Tesi Manziel, Johnny Manziel's wife. Damn this just got a whole lot messier that we believe TO posted.
While Bre is seen hugged up with Jiordyn at her birthday party she thanked all her family and friends for celebrating another year with her, saying:
This is where life is lived. These are the moments, the people, that make life worth living. These are the people who make life beautiful. These are my people. Here's to the months that turned into years with the friends that have become family. I love you all so much! We are missing a few very important people in these photos unfortunately but I still love u ??? another year ? thank you to @bcphotography_ for always capturing the best moments.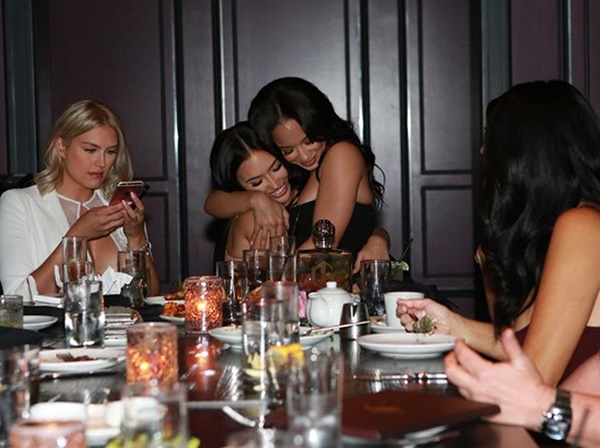 Bre posted several photos from her birthday party where she celebrated with her sisters and friends in Los Angeles. We noticed that Jimmy wasn't in any of the photos, so maybe he wasn't invited or, these two are NOT dating.
If the rumors play out to be true then Jimmy is winning regardless of the team he plays. Plus, Los Angeles seems to be doing him right, check out these luscious photos of Jiordyn.
Take a look at Jimmy's LA woman with her friends, because you NEVER know who knows each other. Basketball girlfriends and Baller wives all run in the same circles, so you gotta be smart ballers.
Check it: