Lets catch you up to speed, if you saw the Texas Ranger vs the Toronto Blue Jays game then you saw Rougned Odor punching Toronto Blue Jays outfielder Jose Bautista in the face!!!
We just heard that no Medical Attention Required for Jose Bautista, but it appears Rougned Odor readies for suspension on the flip…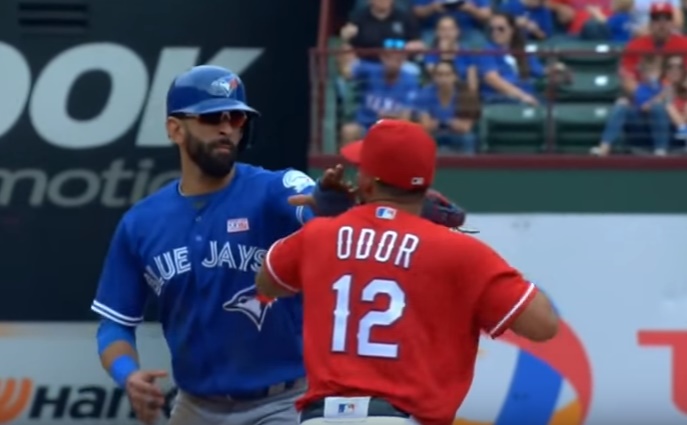 CelebNSports247.com has the latest on the Rougned Odor Jose Bautista fight on the field during the eighth inning of a 7-6 win over the Blue Jays on Sunday.
See Odor took exception to a hard slide by Bautista in the eighth, and the two players squared up, Odor landed a right-handed hook on Bautista. Both dugouts and bullpens emptied, and a melee ensued.
Take a look:
Now the league has yet to make a ruling regarding discipline for the players involved. Odor will almost certainly be suspended and fined, and he is preparing for the inevitability, per Jeff Wilson of the Fort Worth Star-Telegram.
Meanwhile, Bautista's agent, Jay Alou, who said straight up:
"Everything is fine, Jose didn't require any medical attention."
Alou added:
"It's unfortunate this happened. Kids don't need to see that."
Rougned Odor isn't going to apologize for his punch to the face of Blue Jays slugger Jose Bautista on Sunday, and the Rangers second baseman has already come to terms with the likelihood he'll be suspended for starting a benches-clearing brawl.
Odor said Monday, via the Fort Worth Star Telegram?:
"I think you saw what happened yesterday."

"For me, I think it was a pretty hard slide, but you saw what happened. I knew he was going to come hard. I can tell when somebody is coming hard to second base, so I was just trying to protect myself. It's part of the game."
Here is what was said about Rougned Odor on social media: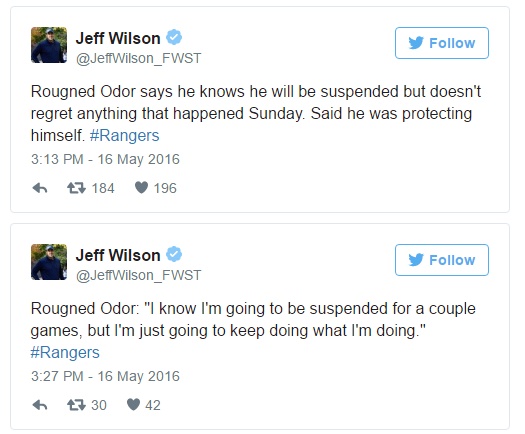 What do you think about the Jose Bautista Rougned Odor brawl?