Jose Reyes, the former star brought back by the Mets despite his recent suspension in a domestic abuse incident, tore around the bases against the Miami Marlins!!!
Flip and get more on the return of Jose Reyes teaming with Wilmer Flores to Lead The Mets…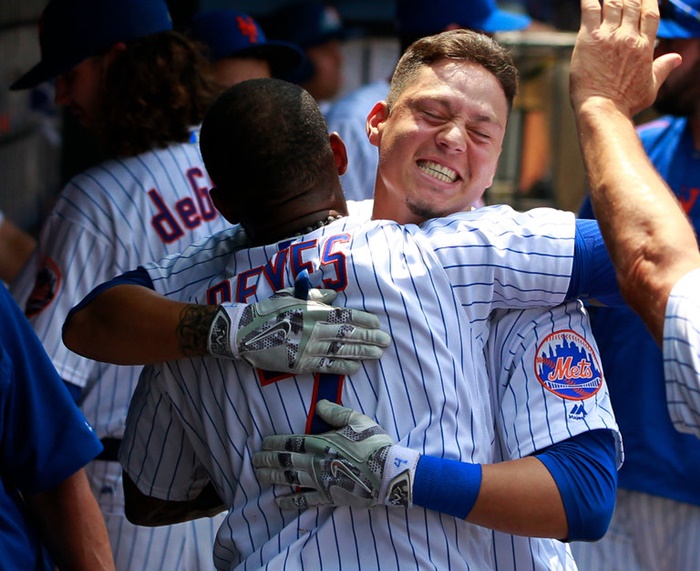 CelebNSports247.com just got the news that Jose Reyes Back With The New York Mets after two doubles, which was his first contributions since joining the team the day before.
CelebNMusic247.com previously reported that Reyes was arrested for beating his wife in 2016.  Now that Reyes is back, what does that mean for Wilmer Flores, whose playing time would most likely suffer with Reyes in the fold?
Manager Terry Collins said:
"It's going to be hard to get both guys in there at the same time."

"But one of them is going to have to sit, but you've got a hot hitter sitting on the bench that we can run up in any big situation during the game. It's going to make us a different-looking club."
The NY Times had this to update:
On Tuesday night, Reyes played third base — the position he recently learned during a short stay for the Mets in the minor leagues — while Flores handled second to give Neil Walker a day off. Reyes was supposed to play third again Wednesday, and Flores was supposed to play first with James Loney getting a day off.

But Asdrubal Cabrera, the Mets' regular shortstop, was scratched just before the game because, the team said, he was up all night with an illness in his family. So Loney was called into action at first base, Flores was moved to third and Reyes started at shortstop, his longtime position.
With the switches, the Mets displayed the type of versatility that they had after making a series of roster moves last season.
Collins weighed in:
"We took somebody out of the game and we had a legitimate piece to go in there and fill in."

"That's what made us so successful in the second half and I can see that happening again."
Collins said the Mets have noticed that Flores plays better when his job is threatened.
Flores said:
"Having Jose here is going to make us a better team."

 "This team needed a player like that, who brings us that energy."
Thoughts?
Photo: Rich Schultz/Getty Images