It was the biggest mistake in NBA history last night when JR Smith took the ball and dribbled away the Cavs chances of winning game one against the Golden State Warriors.
For some reason JR Smith didn't see it that way. Read on…
CelebNSports247.com first wants to thank JR Smith for screwing up because we are for the Warriors!
Now that we got that out the way, here is the tea spilling about JR Smith big mistake:
During the last 4.7 seconds on the game between the Cavs and Warriors last night J.R. Smith snatched up George Hill's errant free-throw. Instead of passing to LeBron James to win the game the Cavaliers guard dribble out the clock because he thought Cleveland was leading. In reality, the score was tied.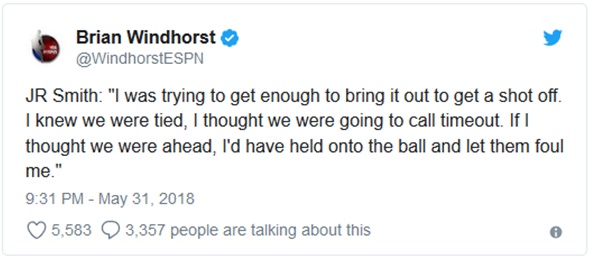 A rational, level-headed player would have allowed the Warriors to foul him so he could go to the line and stretch the advantage to three points. That didn't happen.
Take a look at the moment JR dribbled away the Cavs chances of stealing the win on game one:
That's what everyone, including his coach Ty Lue, is saying. The only person with a different explanation for what happened is Smith.
JR had another thing in his head ad instead of owning his mistake, he is pointing the finger at his teammates aka LeBron James.
Own you sh*t JR, that's petty saying you thought LeBron James was calling a time out to save your @ss. #SMH