Ouch, that has to hurt a little! Love & Hip Hop Atlanta, New York turned singer, then back to the reality star on LHH Hollywood, K Michelle just spilled some major tea on Buffalo Bills running back LeSean McCoy.
Ladies, wait until you hear what K Michelle is saying about Buffalo Bills running back LeSean McCoy…
CelebNSports247.com just got that latest tea from the Rebel Soul herself, K Michelle who just BLASTED Buffalo Bills running back LeSean McCoy as a one-minute-man.
During an interview with Hollywood Unlocked's Jason Lee, K Michelle, now Kimberly was speaking on her butt injections from a known doctor in Atlanta that went wrong.
She goes into detail about the injections that were completely unsafe and illegal to have in the US. While Kimberly revealed that the doctor told her it was a jelly. In reality, it was silicon.
Moving forward in the conversation Kimberly is known to have no filter, but these days she is a bit more polished, well, sort of.
K goes on to speak on Idris Elba, JR Smith (The Hood Man), Ochocinco and more. Unfortunately, when it came down to the juicy details of her sex life with LeSean McCoy she instantly said he didn't measure up in the bedroom.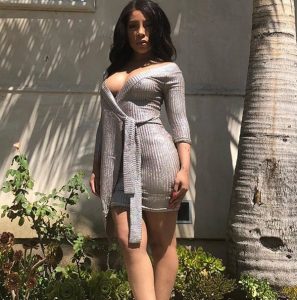 Kimberly straight says that he is not only a 1-minute-man, LeSean doesn't measure up in the D department.
She says that she heard some dirt on LeSean McCoy, so when they were out together she asked him what was some of his biggest flaws. He told her that his biggest flaw was that he cums too quick. She even says that LeSean McCoy dated Porsha Williams.
Here is the tea, JR Smith was hood sex, top notch, best ever!
Idris Elba has a tongue that won't stop!
Ochocinco has the biggest d**k EVER! If you thought Safaree had an Anaconda, Chad Ochocinco Johnson p*nis is way bigger! She says that she didn' go there because she wanted to save her walls. Way too Big, we're talking length, girth – wider than a coke can.
Damn!
K Michelle told Jason:
Unfortunately, the same can't be said for LeSean McCoy, K Michelle claims that the Pro Bowl running back has a small penis, and c*** too quickly.

K Michelle then reveals that she had s*x with former NFL great Chad Ochocinco, but that she had to break up with him because his p*nis was too big. I wanted my walls and I wanted to get a husband.