Colin Kaepernick has broken his silence over Jay-Z partnering with the NFL, and it seems the former QB is not siding with HOVA.
Yesterday, after Jay Z announced he was teaming up with the NFL sitting with the commissioner, it was one of the most notable Uncle Tom move because we all know the NFL commissioner wears a red hat. In addition, did you notice that the press conference was on the Kaep's kneeling anniversary?  That was a subliminal jab too.
That is why Kaepernick's friend Eric Reid, who has been having his woes with the NFL and the ongoing targeted drug testing RIPPED Jay- Z for "burying Colin's career." Not only that, Jay Z made it a point to clap back on Thursday after he was called out for NEVER reaching out to the former 49ers quarterback. Read on to see how Kaepernick Supports Eric Reid For RIPPING Jay Z…
CelebNSports247.com reports that Colin Kaepernick made it a point to support Eric Reid who has not only kneeled by his side but is calling a spade a spade when it comes to Jay-Z disrespecting everything he has achieved since he began his "Fight For Liberation."
Jay-Z dared to say "we've moved past kneeling" during his press conference while sitting with NFL commissioner Roger Goodell lying that Kaepernick and he spoke.
The Roc Nation Sports head honcho said:
I think we've moved past kneeling. I think it's time to go into actionable items.
Luckily, Panthers safety Eric Reid caught Jay speaking out the side of his neck, so he BLASTED Jay, on Wednesday and Thursday.
Eric Reid tweeted Thursday morning:
Jay-Z NEVER took a knee! He sacrificed NOTHING. In truth, he is capitalizing off of Kaepernick's loss.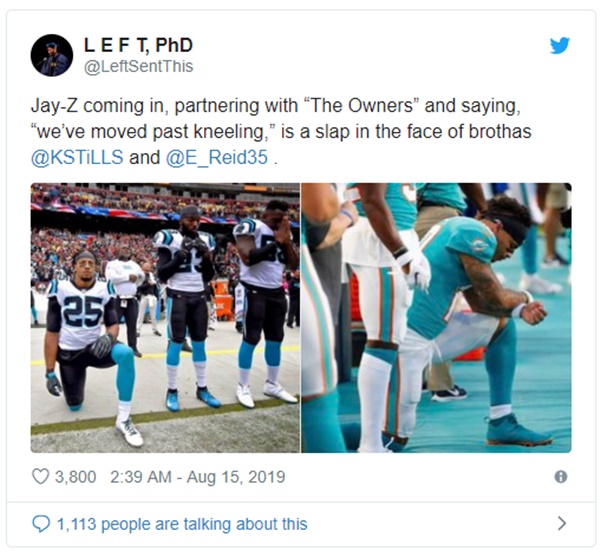 After seeing the support from Reid, Colin Kaepernick tweeted out support for his friend and praised him for always having his back.
You never turned your back on me or the people, even when the NFL tried to silence your voice & the movement.
He continued:
You've never flinched or wavered. I love you, Brother! Let's get it! @E_Reid35
Then, Kaepernick addressed his fans, who have been clamoring about Jay-Z's move, and wanting a response from Kap on the matter.
The ex-San Francisco 49ers QB wrote:
And to the people – I see you, I hear you and I love you! Thank you for having my back!!
You never turned your back on me or the people, even when the nfl tried to silence your voice & the movement. You've never flinched or wavered. I love you Brother! Let's get it! @E_Reid35

And to the people – I see you, I hear you and I love you! Thank you for having my back!!!?? pic.twitter.com/kBJ1SCBYIq

— Colin Kaepernick (@Kaepernick7) August 15, 2019
He also retweeted a comment from director Ava DuVernay that read, "#ImStillWithKap."