The Golden State Warriors have officially lost one of their best players. Kevin Durant is heading east to sign with the Brooklyn Nets.
The first sign of Kevin Durant heading to New York came when he sold his California home. We had a feeling the Nets would be his new team since they persuaded him by signing DeAndre Jordan. Read on…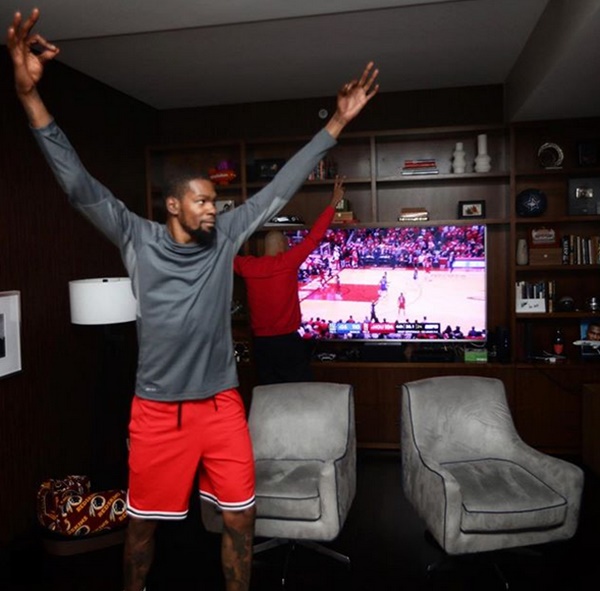 CelebNSports247.com reports that rumors have been swirling that Kevin Durant will indeed become a Brooklyn Nets player in the coming season.
Despite Durant's recent devastating news, we are hearing that the Brooklyn Nets had received a commitment of sorts from Kevin Durant that he intends on signing a max deal in 2019 free agency just across the bridge from Manhattan.
Adrian Wojnarowski reported that this is a fact, not a rumor.
He Tweets:
Kevin Durant is planning to sign with the Brooklyn Nets, league sources tell ESPN.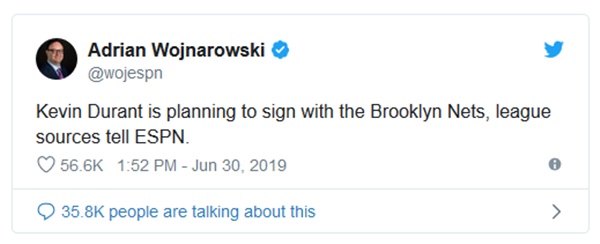 Of course, Wojnarowski held nothing back, oh no, he spilled all the tea about how big the deal was going to be.
He writes:
Durant will sign a 4-year, $164M deal with the Nets; Irving will sign 4-years, $141M.

Wow, we get that everyone wants to be the fist to report to gain click bait but damn, Adrian don't you think that was over-stepping a bit?
So much for Durant's "official" announcement.