If you've been hearing the RUMORS that Kyrie Irving Boo Kehlani Caught in Bed With PARTYNEXTDOOR, we have the tea to spill!!!
EDITOR UPDATE: Bay Area Artist Kehlani Tried To Kill Herself, She is currently in the hospital!
Get all your questions answered on the love triangle that is on FULL BLAST via social media…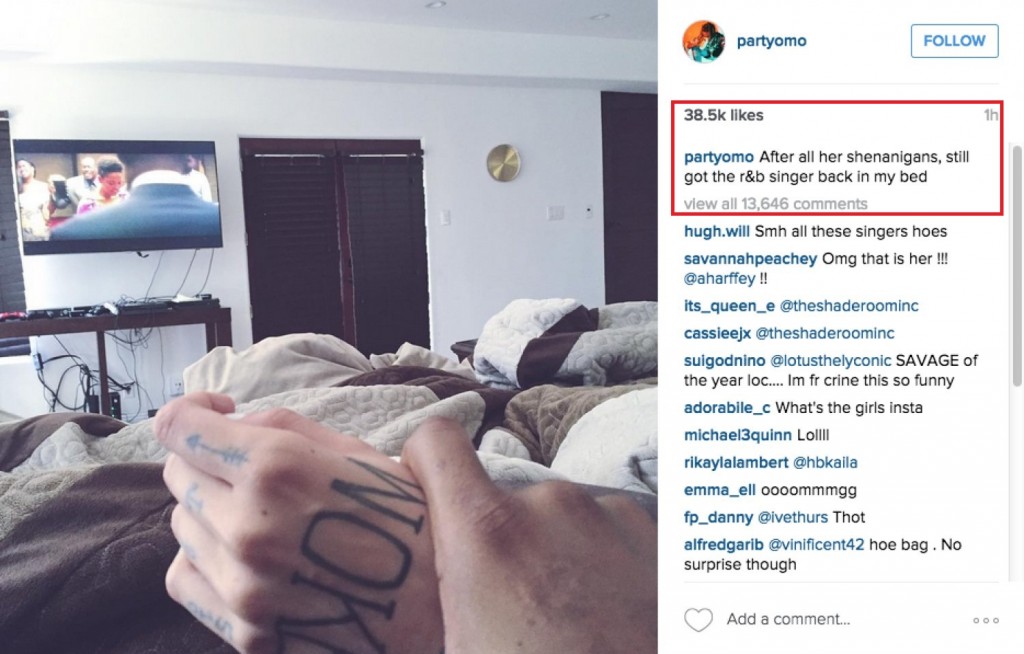 You might have seen some rumors kicking around about Kyrie Irving and Kehlani, an R&B singer who was linked to Irving via social media.
Well, we're here to explain it, since PARTYNEXTDOOR posted a revealing photo on Instagram!
Kyrie Irving is a point guard for the Cleveland Cavaliers and a three-time NBA All Star.  He has been linked to Kehlani is a 20-year-old R&B singer-songwriter from Oakland.
Jahron Anthony Brathwaite aka PARTYNEXTDOOR posted (and deleted) a suggestive picture on the 'gram this afternoon that has many jumping to the conclusion that he and Kehlani are dating. The picture shows what is thought to be PARTY and Kehlani's hands intertwined while laying in bed together.
[rpi]
PND wrote in the photo above:
"After all her shenanigans, still got the R&B singer back in my bed."
Brathwaite, a 22-year-old rapper and singer from Canada who is signed to Drake's OVO label.
CelebNSports247.com has learned cia FTW that Kehlani and PARTYNEXTDOOR used to date, pretty publicly at that, though they appeared to call things off last year in a very public breakup. PND recorded a song called Kehlani's Freestyle that confirmed the breakup, and featured PND speaking frankly about his failures as a boyfriend.
On Monday, PARTYNEXTDOOR posted the following to his Instagram, which you might recognize the tattoo in the photo above: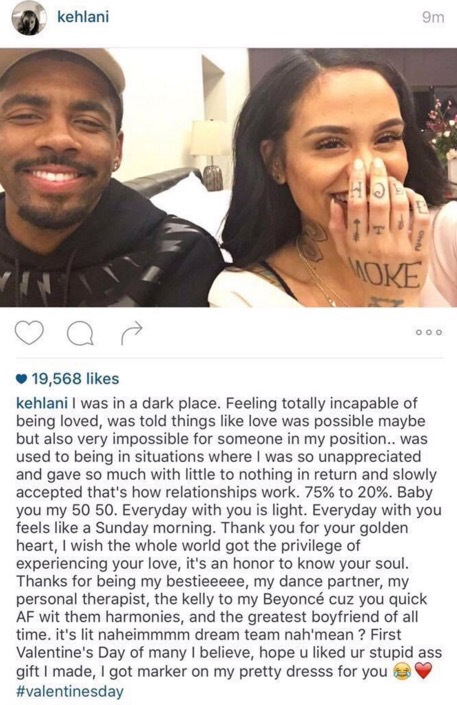 Months later there were rumors circulating that Kehlani had started dating Irving, rumors that appeared to be confirmed with a very enthusiastic Valentine's Day post on Kehlani's Instagram.
Twitter was NOT so kind to Kyrie Irving firing off a barrage of tweets crucifying the NBA baller: