We were actually hoping he wouldn't go there, but the loud mouth, over opinionated and annoying father of LiAngelo, Lonso and LaMelo, LaVar Ball sounded off. He pulled the race card about his way he brings up his sons.
Does this man NOT understand we are all annoyed by him, he's disrespectful to everyone? We understand that he's protective of his sons, but LaVar Ball is too much all the time. Read on…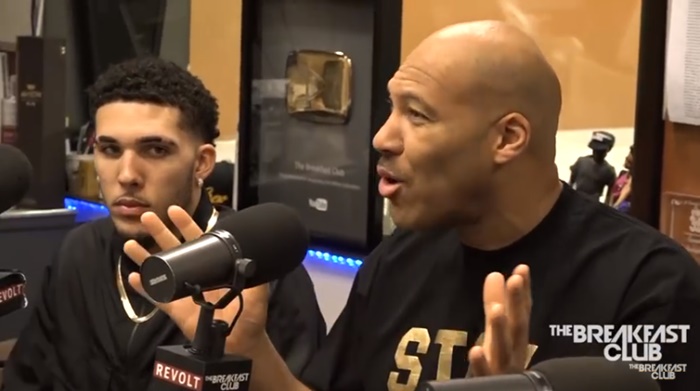 Now, that LaVar Ball has decided to pull his sons from the schools to play in Litho, he's and the boys were invited to chop it up with the gang on "The Breakfast Club."
It took no time for Charlamagne Tha God to ask if he thinks the perception of him would be the same if he were Caucasian.
LaVar jumped all over it saying:
"Heck no. They're scared of me because I'm uncontrollable. When you can't control one of us you in trouble."
Ball explained that a black man with a vision is a threat to the status quo, and he feels he's been vilified to a degree for being that threat.
What LaVar doesn't get is that he did that to himself, but like most people who love to play victim, he's pointing finger and pulling the race card.
Then, his ungrateful son, LiAngelo Ball, who was WRONG for stealing, had this to say about his infamous UCLA-China shoplifting scandal. LiAngelo said he wouldn't have thanked President Trump, but the school made him.
[rpi]
Bottom line, LiAngelo did something dumb, but stealing sunglasses when you daddy gives you a Ferrari? Typical rich kid trying to fit in with his friends. It's sad that LiAngelo proved he's a follower, and Not a Baller!
We guess the apple doesn't fall far from the tree with LiAngelo. SMH
Some people NEVER learn.