While the Oakland Raiders and New England Patriots were out in Mexico City to face off, Raiders running back Marshawn Lynch made a statement.
In tradition of Colin Kaepernick another bay area baller, Oakland Raiders RB Marshawn Lynch is making a statement for those who can't. Read on…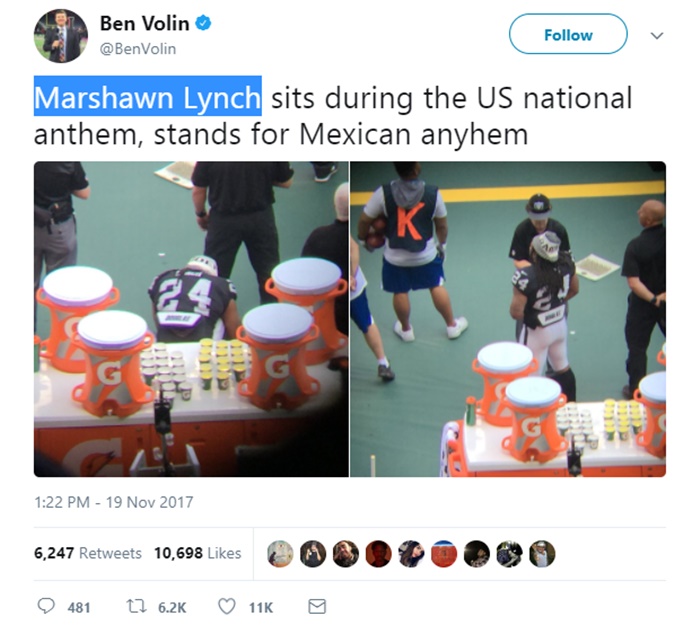 CelebNSports247.com has the latest on Oakland Raiders RB Marshawn Lynch who was spotted making a statement on Sunday in Mexico.
We have a feeling that this was Marshawn Lynch way of lashing out at President 45 over the wall he wants to divide the US from Mexico.
During the Raiders and New England Patriots game 'Beastmode' was back at it again as he was observed sitting during the National Anthem.
What caught everyone's attention was when the Mexican National Anthem played, Lynch was seen standing in respect. [above]
[rpi]
Is Marshawn Lynch wrong for this? We feel NOT, he is continuing Kaepernicks sit down or kneel during the nation anthem because the lyrics are written by a known man who was for slavery back in the day. And though we only sing the first verse of the anthem, the second and third verse is filled with racism. This is why the NAACP of California wants it abolished from all sporting events across the board.
What do you think about Lynch sitting for our anthem and standing for the Mexican National Anthem?