Apparently, Tristan Thompson is NOT OWNING UP to cheating on Khloe Kardashian or Jordy Craig his first pregnant fiance who he cheated on and left to be with Khloe.
Let's NOT forget how you get a man is how you lose a man! Matt Barnes and DeMarcus Cousins is letting Tristan Thompson have it. Matt is also dealing with his own issues with ex Gloria Govan suing him for defamation. Read on for all the tea spilling…
CelebNSports247.com has the latest on Tristan Thompson, who is on the chopping block with everyone, even NBA player Matt Barnes!
A source revealed to Us Weekly that Tristan Thompson allegedly blamed the side-chicks and NBA culture for his bad habit. Here is what set Matt Barnes off!
The insider told Us:
Khloé has completely forgiven Tristan for cheating on her, and it really wasn't hard for her to do because he literally broke down crying in her hospital room after she had given birth to True. Tristan was absolutely devastated that he had hurt and betrayed Khloé. Adding to the grief, was, of course, the timing of when it all came out, the days before she gave birth.
The source adds:
Tristan explained to Khloé that there were women constantly throwing themselves at him, and he felt pressure to not refuse them because it's the unspoken rule in the NBA that players hook-up with groupies on the road.
Matt did a post/delete on Instagram weighing in on Tristan: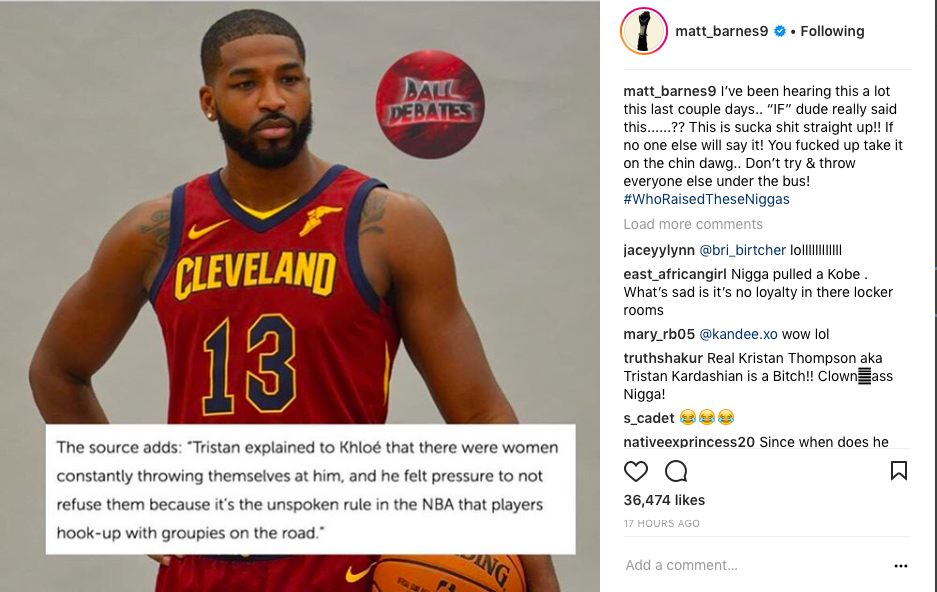 Fellow NBA star and New Orleans Pelicans big man DeMarcus Cousins took the straight forward blunt approach when SLAMMING Tristan Thompson NOT owning his S**T!
Cousins lashed out about Thompson:
He said, Tristan Thompson is a "FN" which means "F–k Ni–a" for blaming NBA players for his cheating ways!
In addtional news, Matt Barnes is being SLAPPED with a Defamation lawsuit by Gloria Govan:
Damn, this woman is heartless and always out for more money! In a new money grab attempt, Gloria is suing her ex-Matt for  publicly claiming she defrauded him.
Matt Barnes has his own troubles with his ex-wife Gloria Govan who cheated on him with Derrick Fisher. Barnes is currently being sued by his ex-wife Gloria Govan, who is accusing him of defaming her by publicly claiming she defrauded him during their marriage by stealing money, according to The Blast.