On Friday night the UFC released the good news that Nate Diaz had been cleared to compete at UFC 244.
They said Nate Diaz had not committed a violation of the UFC's anti-doping policy while unintentionally ingesting the substance LGD-4033. Now the BMF fight with Jorge Masvidal is apparently on!  Read on to get the inside track on Nate Diaz BMF fight…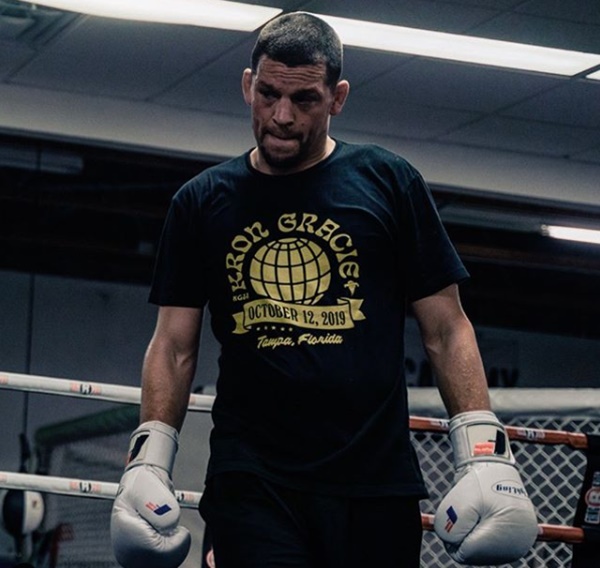 CelebNSports247.com reports that the UFC-USADA joint declaration of innocence, which Diaz demanded in order to fight, ended a whirlwind 30-hour stretch of negative headlines of Diaz.
MMAFighting points out some interesting points from the statement made by the UFC-USADA in the second paragraph.
It reads:
As early as August 31, 2019, certain significant changes to the UFC Anti-Doping Policy have been agreed on in principle between UFC and USADA and, as such, have been put into practice.
Here is what we've learned from MMAFighting:
Here is the problem with that: where is the public transparency? Take a look at USADA's UFC news page. As of Saturday morning, since Aug. 31, they have posted eight items. Every single one of them features the announcement of an anti-doping violation. No news of the policy shift. Likewise, there is no mention of this very important change on USADA's social media, or within its UFC athlete handbook.

In fact, selective androgen receptor modulators (SARMs), the therapeutic compound for which Diaz tested positive, is today listed by USADA as "prohibited at all times." There is no minimum threshold exception, as is explicitly mentioned for other substances within the handbook such as salbutamol — ironically, the substance that caused Greg Hardy's recent win to be overturned. It seems that would be important information to update, but yet nearly two months after these changes were agreed on in principle, they are nowhere to be found.
Fast forward to Sept. 4, 2019, in regards clearing Nate Diaz for BMF fight:
The site points out that "the USADA lifted a provisional suspension on Neil Magny for a similar finding as Diaz."
They explain:
When he tested positive for a SARM, but below the minimum thresholds. That would have been a fitting time to codify and announce any policy changes, but the agency didn't even publicly announce he was cleared. Instead, Magny released the news himself. From USADA, nothing followed.

That lack of transparency reared its head again with Diaz's case. While USADA announced "the adoption of scientifically-based decision concentration levels, also known as minimum thresholds, for certain prohibited substances where evidence has shown that positive tests of these substances below the threshold are consistent with innocent contamination," it didn't say what the thresholds are, or for what prohibited substances they may apply.
Are you looking forward to the Nate Diaz BMF fight?
For more backstory click here…