Are you like the dozens of sports fans who would just like to tell LaVar Ball to shut up and that he sucks!
The backlash continues with LaVar Ball and his sons. Like most of us, were sick of hearing about loud mouth LaVar Ball, and so is one fan who told him to f-ck off it his face. Watch the video on the flip…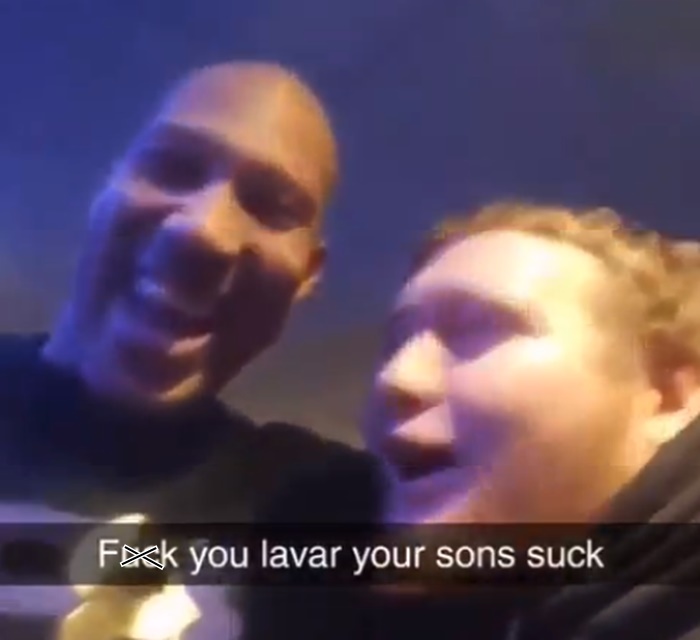 Lonzo Ball may be the hype of the Los Angeles Lakers, but that doesn't mean that the teams coach NEEDS to endure comments from the outspoken father of Lonzo.
Luke Walton may have finally had enough of LaVar Ball and it took just 24 games into the season for it to happen.
Lonzo's disrespectful father couldn't help himself from bashing the coaching staff by stating how they're not able to coach his son like he could. He had the audacity to implored them all to listen to him.
What did the Los Angeles Lakers head coach do?
Luke Walton made it blatantly clear that the opinions of people outside of the Lakers organization are falling on deaf ears.
Walton told the Orange County Register's Bill Oram:
"We don't take parents' opinions into our coaching decisions and how we're trying to grow as a group. The relationship with Lonzo means a lot to me, so I stay in constant contact with him and how he's doing. But as far as other people's thoughts on what we should do, I don't concern myself with those."
[rpi]
Despite having this rule in place for years, the Lakers decided this season to finally enforce a rule banning media from interviewing guests of players after games. It's now being referred to as the 'LaVar Ball Rule.'
Of course, LaVar Ball stated up after being informed of the rule:
"It's a good rule but I ain't gonna never shut up, so we'll see if the rule works or not,"
Which leads us to one fan who voiced the opinion of all NBA and Lakers fans worldwide, along with the Lakers staff and coach Luke Walton.
Check the video:
Guy tells LaVar Ball "F you, your sons suck" right to his face. OMG! pic.twitter.com/X8LUdKrGww

— World Star Fans (@ComedyWorIdStar) December 9, 2017
We love this so so so much…to bad they just don't ban LaVar Ball from all Lakers games. That will shut him up.