We just got word that the Houston Rockets have just signed Free agent center Nene Hilario to a one year deal to replace Dwight Howard!!!
Flip and get more details on Nene Hilario joining the Houston Rockets…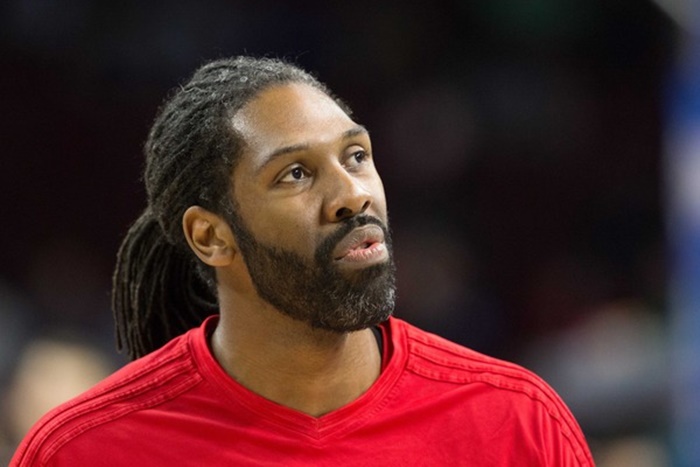 CelebNSports247.com has the latest news on center Nene Hilario who just agreed to a one year deal with the Houston Rockets.
Hilario's deal is said to be a few million.
YardBarker reports:
Free agent center Nene Hilario agreed to a one-year deal with the Houston Rockets on Wednesday, reports Adrian Wojnarowski of The Vertical. The contract is worth $2.9 million.

Nene, 33, spent the past four-and-a-half seasons with the Washington Wizards, where various injuries prevented him from playing more than 67 games. Last season, Nene averaged 9.2 points and 4.5 rebounds per 19.2 minutes over 57 games. He missed 19 games with a strained left calf.
Meanwhile, a humble Nene Hilario took to his Twitter feed to thank the Wizards for everything and then thank the Houston Rockets for signing him: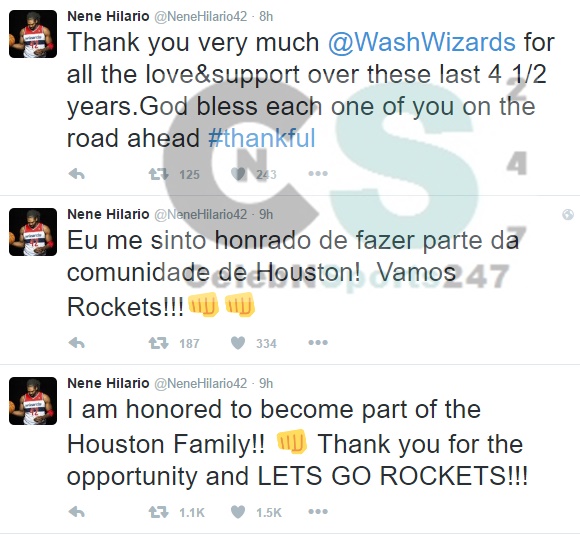 With Dwight Howard gone, the Rockets needed to add depth at the center position. Clint Capela is expected to start next season, and Nene will likely fill in as the second or third option in the rotation.
The Houston Rockets are regrouping and strategizing with new players.
Meanwhile, Todd Dybas of the Washington Times has this to say about Nene:
The Wizards made the playoffs in 2013-14 and 2014-15, with Nene emerging as a tough, defensive stopper when he was on the floor. Nene and Marcin Gortat helped stabilize the locker room and helped give Wall and Bradley Beal vital playoff experience. General manager Ernie Grunfeld talked about Nene's impact on the club.
"Nene was huge. Nene came from a winning environment. … He changed the whole culture. He gave us toughness. Defense. He gave us some good rebounding. He's a team player. I think that was the first big piece to the new culture that we tried to create."
We will see if the change brings back his strength for the Rockets.